Date
Setting the date
1. "Settings"
2. "Time/Date"
3. "Date:"
4. Turn the controller until the desired day is displayed.
5. Press the controller.
6. Make the necessary settings for the month and year.
The date is stored.
Setting the date format
1. "Settings"
2. "Time/Date"
3. "Format:"
4. Select the desired format.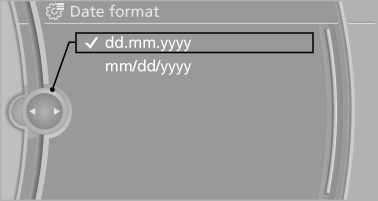 The date format is stored.
See also:
The Appendage Factor
M cars have had what I call a high appendage factor — the feeling that the car is an extension of the driver. It's typically experienced in cars whose various systems and characteristics are well- ...
After washing the vehicle
After washing the vehicle, apply the brakes briefly to dry them; otherwise, braking action can be reduced and corrosion of the brake discs can occur. ...
Radio ready state
Activate radio ready state: When the ignition is switched off: press ON/ OFF button on the radio. When the engine is running: press START/ STOP button. Some electronic systems/power con ...