Date
Setting the date
1. "Settings"
2. "Time/Date"
3. "Date:"
4. Turn the controller until the desired day is displayed.
5. Press the controller.
6. Make the necessary settings for the month and year.
The date is stored.
Setting the date format
1. "Settings"
2. "Time/Date"
3. "Format:"
4. Select the desired format.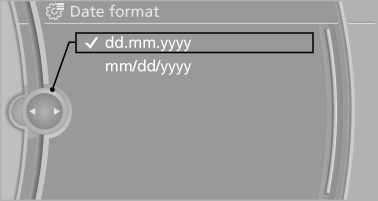 The date format is stored.
See also:
Parked-car ventilation
The concept The parked-car ventilation ventilates the vehicle interior and lowers its temperature, if necessary. The system can be switched on and off at any external temperature, either directl ...
Incoming call
Receiving calls If the number of the caller is stored in the phone book and is transmitted by the network, the name of the contact is displayed. Otherwise, only the phone number is displayed. ...
Notes
Manufacturer's information for child restraint fixing systems To select, mount and use child restraint fixing systems, observe the information provided by the system manufacturer; otherwis ...