Opening
During opening, the trunk lid pivots back and up.
Ensure that adequate clearance is available before opening.
Opening from the outside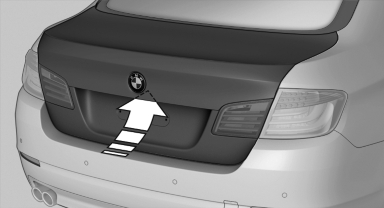 Opening from the outside
▷ Press the button on the trunk lid.
▷

Press the button on the remote control for approx. 1 second.
▷ With Comfort Access the trunk lid opens with no-touch activation
Opening from the inside

Push the button in the driver's footwell.
If the vehicle is stationary, the trunk lid opens if it is not locked.
See also:
Reporting safety defects
For US customers The following only applies to vehicles owned and operated in the US. If you believe that your vehicle has a defect which could cause a crash or could cause injury or death, you ...
Open trunk lid with no-touch activation
With Comfort Access, the trunk lid can be opened with no-touch activation using the remote control you are carrying. A sensor detects a directed foot motion in the center of the area at the rea ...
Traffic Jump
Traffic and weather information for a selected region is broadcast every few minutes. Selecting a region 1. "Radio" 2. "Satellite radio" 3. Open "Options". 4. &quo ...