Using the door lock
General information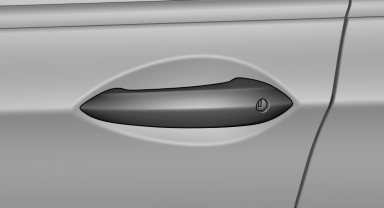 Locking from the outside
Do not lock the vehicle from the outside if there are people in it, as the vehicle cannot be unlocked from inside without special knowledge.◀

Remove the key before pulling the door handle
Before pulling the outside door handle, remove the key to avoid damaging the paintwork and the key.◀
In some country-specific versions, the alarm system is triggered if the vehicle is unlocked via the door lock.
In order to terminate this alarm, unlock vehicle with the remote control, or switch on the ignition, if necessary, by emergency detection of the remote control.
In some vehicle equipment versions, only the driver's door can be unlocked or locked via the door lock.
Locking the doors and trunk lid at once
To lock all doors and the trunk lid at once:
1. With the doors closed, lock the vehicle using the button for the central locking system in the interior.
2. Unlock and open the driver's or front passenger door.
3. Lock the vehicle.
▷ Lock the driver's door using the integrated key in the door lock, or ▷ Press down the lock button of the front passenger door and close the door from the outside.
The fuel filler flap can only be locked using the remote control.
Manual operation
If an electrical malfunction occurs, lock or unlock the vehicle using the integrated key via the door lock on the driver's door.
See also:
Protective action
Airbags are not triggered in every impact situation, e.g., in less severe accidents or rear-end collisions. Information on how to ensure the optimal protective effect of the airbags ▷ ...
Vehicle care
Car care products BMW recommends using cleaning and care products from BMW, since these have been tested and approved. Car care and cleaning products Follow the instructions on the container. ...
Having possible commands read aloud
You can have the available commands read out loud for you: ›Voice commands‹ For example, if the "Settings" menu is displayed, the commands for the settings are read out loud. ...