Changing wheels and tires
Mounting

Information on mounting tires
Have mounting and balancing performed only by a service center or tire specialist.
If this work is not carried out properly, there is the danger of subsequent damage and related safety hazards.
Wheel and tire combination
Information on the correct wheel-tire combination and rim versions for your vehicle can be obtained from your service center.
Incorrect wheel and tire combinations impair the function of a variety of systems such as ABS or DSC.
To maintain good handling and vehicle response, use only tires with a single tread configuration from a single manufacturer.
Following tire damage, have the original wheel and tire combination remounted on the vehicle as soon as possible.

Approved wheels and tires
The manufacturer of your vehicle recommends that you use only wheels and tires that have been approved for your particular vehicle model.
For example, despite having the same official size ratings, variations can lead to body contact and with it, the risk of severe accidents.
The manufacturer of your vehicle cannot evaluate non-approved wheels and tires to determine if they are suited for use, and therefore cannot ensure the operating safety of the vehicle if they are mounted.
Recommended tire brands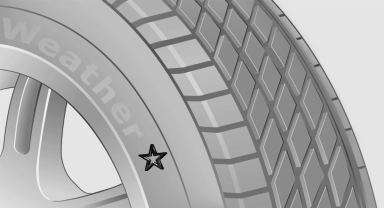 For each tire size, the manufacturer of your vehicle recommends certain tire brands. These can be identified by a star on the tire sidewall.
With proper use, these tires meet the highest standards for safety and handling.
New tires
Due to technical factors associated with their manufacture, tires do not achieve their full traction potential until after an initial breaking-in period.
Drive conservatively for the first 200 miles/ 300 km.
Retreaded tires
The manufacturer of your vehicle does not recommend the use of retreaded tires.

Retreaded tires
Possibly substantial variations in the design and age of the tire casing structures can limit service life and have a negative impact on road safety.
Winter tires
The manufacturer of your vehicle recommends winter tires for winter roads or at temperatures below +45 ℉/+7 ℃.
Although so-called all-season M+S tires do provide better winter traction than summer tires, they do not provide the same level of performance as winter tires.
Maximum speed of winter tires
If the maximum speed of the vehicle is higher than the permissible speed for the winter tires, then display a corresponding sign in the field of vision. You can obtain this sign from the tire specialist or from your service center.

Maximum speed for winter tires
Do not exceed the maximum speed for the winter tires; otherwise, tire damage and accidents can occur.
Run-flat tires
If you are already using run-flat tires, for your own safety you should replace them only with the same kind. No spare tire is available in the case of a flat tire. Your service center will be glad to advise you.
Rotating wheels between axles
The manufacturer of your vehicle advises against swapping wheels between the front and rear axles.
This can impair the handling characteristics.
Storage
Store wheels and tires in a cool, dry place with as little exposure to light as possible.
Always protect tires against all contact with oil, grease and fuels.
Do not exceed the maximum tire inflation pressure indicated on the side wall of the tire.
See also:
Calls with multiple participants
General information You can switch between calls or connect two calls to a single conference call. These functions must be supported by the mobile phone and service provider. Accepting a call ...
E-mail
Displaying e-mails 1. "Office" 2. "Messages" 3. Select the desired e-mail. Displaying e-mail contacts If the sender and recipient of an e-mail are transmitted by the mobile ...
Capturing the image
The image is captured by two cameras integrated in the exterior mirrors and by the backup camera. The range equals: ▷ Approx. 7 ft/2 m to the side. ▷ approx. 7 ft/2 m to the rear. ...