Tire tread
Summer tires
Do not drive with a tire tread depth of less than 0.12 in/3 mm.
There is an increased danger of hydroplaning if the tread depth is less than 0.12 in/3 mm.
Winter tires
Do not drive with a tire tread depth of less than 0.16 in/4 mm.
Below a tread depth of 0.16 in/4 mm, tires are less suitable for winter operation.
Minimum tread depth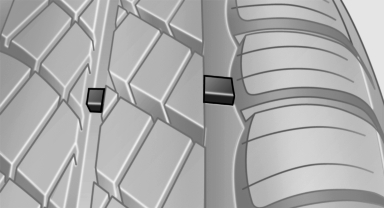 Wear indicators are distributed around the tire's circumference and have the legally required minimum height of 0.063 in/1.6 mm.
They are marked on the side of the tire with TWI, Tread Wear Indicator.
See also:
View of an opened menu
When a menu is opened, it generally opens with the panel that was last selected in that menu. To display the first panel of a menu: ▷ Move the controller to the left repeatedly until the ...
Sockets
The lighter socket can be used as a socket for electrical equipment while the engine is running or when the ignition is switched on. The total load of all sockets must not exceed 140 watts at ...
Correctly adjusted head restraint
A correctly adjusted head restraint reduces the risk of injury to cervical vertebrae in the event of an accident. Adjusting the head restraint Correctly adjust the head restraints of all occu ...