Phone book
Displays
The phone book accesses the contacts and shows all contacts for which a phone number has been stored. The entries can be selected to make a call.
1. "Telephone".
2. "Phone book"
A symbol indicates the storage location of the contacts.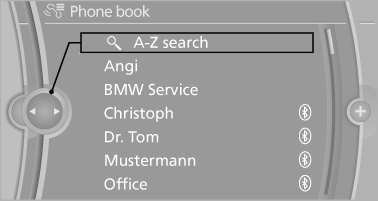 Calling a contact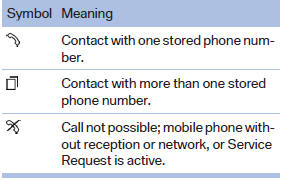 For contacts with one stored phone number: select the required contact. The connection is established.
For contacts with more than one stored phone number: select the required contact and the phone number. The connection is established.
Editing a contact
Changing the entries in "Contacts". When a contact is changed, the changes are not stored on the mobile phone. A copy of the entry is stored in the vehicle.
1. Highlight the contact.
2. Open "Options".
3. "Edit entry"
The contact can be edited.
See also:
BMW Assist
General information BMW Assist provides you with certain services, e.g., transmission of the position data of your vehicle to the BMW Assist Response Center if an Emergency Request has been initia ...
Opening the traffic bulletins
1. "Navigation" 2. "Map" 3. "Traffic Info" First the traffic bulletins for the calculated route are displayed. The traffic bulletins are sorted by their distance fr ...
Condition Based Service CBS
Sensors and special algorithms take into account the driving conditions of your vehicle. Based on this, Condition Based Service determines the maintenance requirements. The system makes it possi ...