Phone book
Displays
The phone book accesses the contacts and shows all contacts for which a phone number has been stored. The entries can be selected to make a call.
1. "Telephone".
2. "Phone book"
A symbol indicates the storage location of the contacts.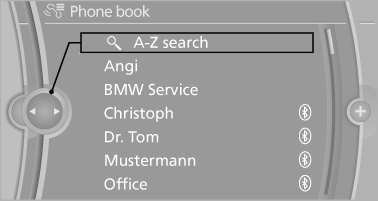 Calling a contact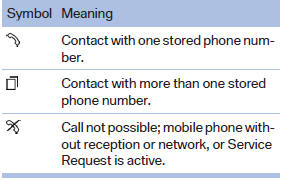 For contacts with one stored phone number: select the required contact. The connection is established.
For contacts with more than one stored phone number: select the required contact and the phone number. The connection is established.
Editing a contact
Changing the entries in "Contacts". When a contact is changed, the changes are not stored on the mobile phone. A copy of the entry is stored in the vehicle.
1. Highlight the contact.
2. Open "Options".
3. "Edit entry"
The contact can be edited.
See also:
Electromechanical steering increases agility and comfort
The driving enjoyment, agility and comfort are also down to an accurate steering system which always gives the driver precise feedback. The typical BMW rear-wheel-drive setup, which eliminates tor ...
Reminders
Displaying remindersReminders for imminent appointments and tasks are displayed. After an appointment has passed or a task is due, the reminder is no longer displayed. 1. "Office" ...
The concept
The following can be operated using the buttons and the thumbwheel on the steering wheel: Current audio source. Redial on telephone*. Activation of the voice activation system*. ...