Audio playback
Selecting the track using the button

Press the button repeatedly until the desired track is played.
Selecting a track via iDrive
Audio CDs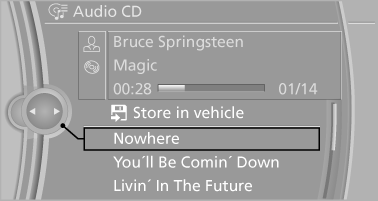 Select the desired track to begin playback.
CDs/DVDs with compressed audio files
Depending on the data, some letters and numbers of the CD/DVD may not be displayed correctly.
1. Select the directory if necessary.
To go up a level in the directory: move the controller to the left.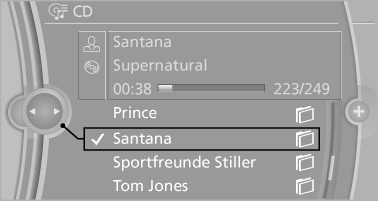 2. Select the desired track to begin playback.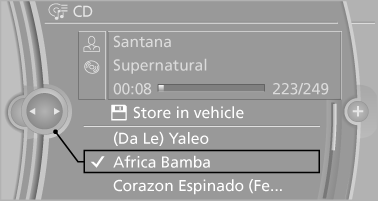 Displaying information on the track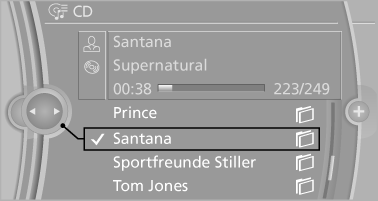 If information about a track has been stored, it is displayed automatically:
▷ Interpret.
▷ Album track.
▷ Number of tracks on the CD/DVD.
▷ File name of track.
Random playback
1. "CD/Multimedia".
2. "CD/DVD".
3. Select the desired CD or DVD.
4. "Options" Open.
5. "Random"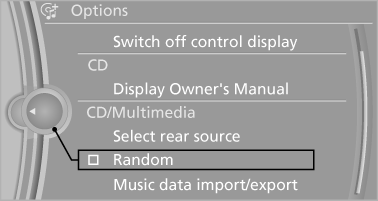 All tracks of the CD/DVD are played back in random order.
Fast forward/reverse

Press and hold the button.
Automatic repeat
The selected CDs or DVDs are repeated automatically.
See also:
Doors
Automatic soft closing To close the doors, push lightly. It is closed automatically. Danger of pinching Make sure that the closing path of the doors is clear; otherwise, injuries may result. ...
Observe the following when refueling
The fuel tank is full when the filler nozzle clicks off the first time. Handling fuels Obey safety regulations posted at the gas station. ...
Checking the coolant level
1. Do not open the hood until the engine has cooled down. 2. Turn the expansion tank cap counterclockwise slightly to allow any accumulated pressure to escape; then continue turning to open. ...