Audio playback
Selecting the track using the button

Press the button repeatedly until the desired track is played.
Selecting a track via iDrive
Audio CDs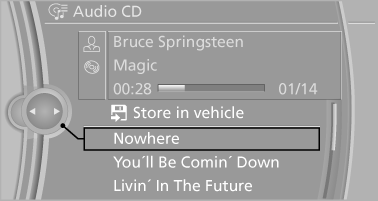 Select the desired track to begin playback.
CDs/DVDs with compressed audio files
Depending on the data, some letters and numbers of the CD/DVD may not be displayed correctly.
1. Select the directory if necessary.
To go up a level in the directory: move the controller to the left.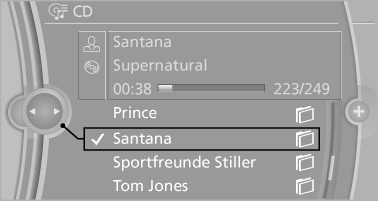 2. Select the desired track to begin playback.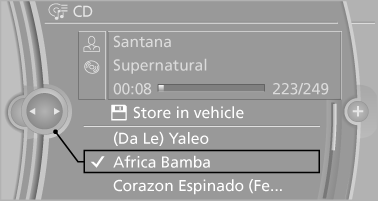 Displaying information on the track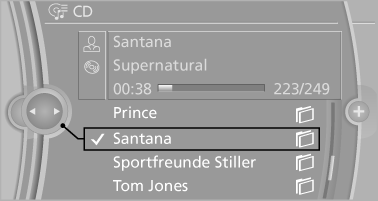 If information about a track has been stored, it is displayed automatically:
▷ Interpret.
▷ Album track.
▷ Number of tracks on the CD/DVD.
▷ File name of track.
Random playback
1. "CD/Multimedia".
2. "CD/DVD".
3. Select the desired CD or DVD.
4. "Options" Open.
5. "Random"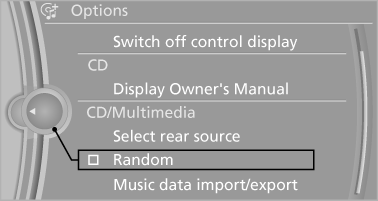 All tracks of the CD/DVD are played back in random order.
Fast forward/reverse

Press and hold the button.
Automatic repeat
The selected CDs or DVDs are repeated automatically.
See also:
Vehicle information
Owner's Manual Computer Vehicle ...
Calendar
Display the calendar Appointments during the last 20 and the next 50 days can be displayed. 1. "Office" 2. "Calendar" The appointments on the current day are displayed. Se ...
DTMF suffix dialing
DTMF suffix dialing can be used for gaining access to network services or for controlling devices, e.g., to make a remote inquiry of an answering machine. The DTMF code is needed for this purp ...