Audio playback
Selecting the track using the button

Press the button repeatedly until the desired track is played.
Selecting a track via iDrive
Audio CDs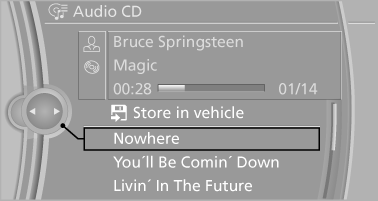 Select the desired track to begin playback.
CDs/DVDs with compressed audio files
Depending on the data, some letters and numbers of the CD/DVD may not be displayed correctly.
1. Select the directory if necessary.
To go up a level in the directory: move the controller to the left.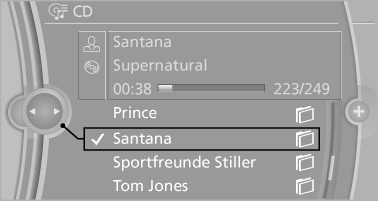 2. Select the desired track to begin playback.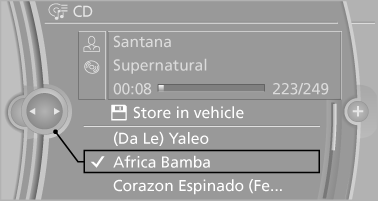 Displaying information on the track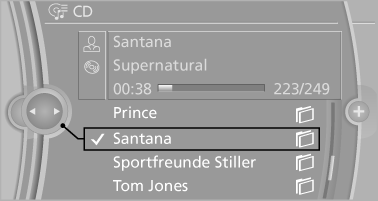 If information about a track has been stored, it is displayed automatically:
▷ Interpret.
▷ Album track.
▷ Number of tracks on the CD/DVD.
▷ File name of track.
Random playback
1. "CD/Multimedia".
2. "CD/DVD".
3. Select the desired CD or DVD.
4. "Options" Open.
5. "Random"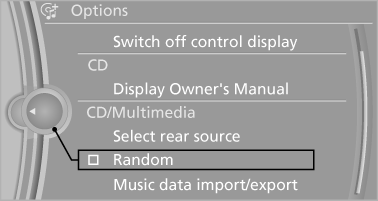 All tracks of the CD/DVD are played back in random order.
Fast forward/reverse

Press and hold the button.
Automatic repeat
The selected CDs or DVDs are repeated automatically.
See also:
Switching the system on/off
Press the left or right side of the button on the CD/DVD player in the rear for the respective page. Rear entertainment and screens are switched on/off. After switching off the ignition, ...
Mobility
To ensure that you remain mobile at all times, this chapter supplies you with important information on the topics of fuels and lubricants, wheels and tires, service, maintenance, and Roadside ...
DOT Quality Grades
Treadwear Traction AA A B C Temperature A B C Conform to Federal Safety Requirements All passenger car tires must conform to Federal Safety Requirements in addition to these grades.◀ ...