Phone book
Displays
The phone book accesses the contacts and shows all contacts for which a phone number has been stored. The entries can be selected to make a call.
1. "Telephone".
2. "Phone book"
All contacts with a phone number are displayed.
A symbol indicates the storage location of the contacts.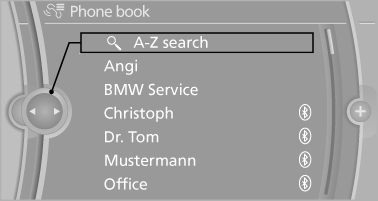 Calling a contact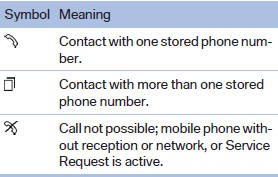 For contacts with one stored phone number: select the required contact. The connection is established.
For contacts with more than one stored phone number: select the required contact and the phone number. The connection is established.
Editing a contact
Changing the entries in "Contacts". When a contact is changed, the changes are not stored on the mobile phone. A copy of the entry is stored in the vehicle.
1. Highlight the contact.
2. Open "Options".
3. "Edit entry"
The contact can be edited.
See also:
2010 BMW X5 Review
Aside from a low clatter at startup, there are few initial signs that BMW's diesel-powered X5 is a different sort of beast. Drive it you must, though, because diesel power is addictive. As is the ca ...
Range
After the reserve range is reached: A Check Control message is displayed briefly. The remaining range is shown on the computer. When a dynamic driving style is used, such as when ...
Automatic deactivation of the frontpassenger airbags
The system determines whether the front passenger seat is occupied by measuring the resistance of the human body. The front, knee, and side airbag on the front passenger side are activated or de ...