Phone book
Displays
The phone book accesses the contacts and shows all contacts for which a phone number has been stored. The entries can be selected to make a call.
1. "Telephone".
2. "Phone book"
All contacts with a phone number are displayed.
A symbol indicates the storage location of the contacts.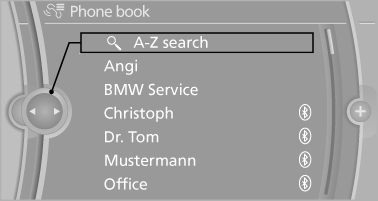 Calling a contact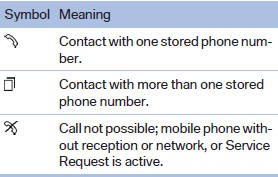 For contacts with one stored phone number: select the required contact. The connection is established.
For contacts with more than one stored phone number: select the required contact and the phone number. The connection is established.
Editing a contact
Changing the entries in "Contacts". When a contact is changed, the changes are not stored on the mobile phone. A copy of the entry is stored in the vehicle.
1. Highlight the contact.
2. Open "Options".
3. "Edit entry"
The contact can be edited.
See also:
Vehicle paint
Regular care contributes to driving safety and value retention. Environmental influences can act on the vehicle paint. Tailor the frequency and extent of your car care to these influences. ...
The concept
DSC prevents traction loss in the driving wheels when driving away and accelerating. DSC also recognizes unstable vehicle conditions, such as fishtailing or nose-diving. Subject to physical lim ...
Roadside Assistance
BMW Roadside Assistance is available by phone around the clock in many countries. You can obtain support there in the event of a breakdown. ...