Timeshift
Approx. one hour of the program being broadcast on the channel currently being listened to is stored in a buffer. Prerequisite: the signal must be available.
The stored audio track can be played with a delay following the live broadcast. When the buffer is full, the older tracks are overwritten. The buffer is cleared when a new channel is selected.
Opening the timeshift function
1. "Radio".
2. "Satellite radio".
3.

"Replay - Time shift"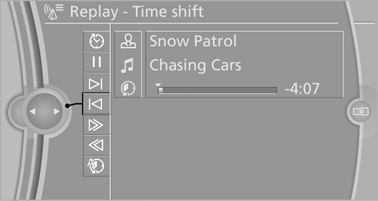 ▷ The red arrow shows the current playback position.
▷ The time difference to the live broadcast is displayed next to the buffer bar.
For live transmissions: "live".
Timeshift menu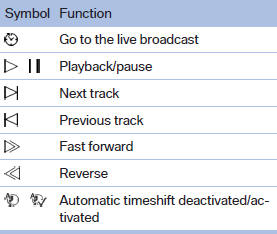 Automatic timeshift
When the function is activated, audio playback is stopped automatically in the event of:
▷ Incoming and outgoing telephone calls.
▷ Activation of the voice activation system.
▷ Muting.
The audio playback then continues with a time delay.
To activate:
1. "Radio".
2. "Satellite radio".
3.

"Replay - Time shift".
4.

"Automatic time shift".
To deactivate:
"Automatic time shift".
See also:
Example: playing back a CD
1. Switch on the Entertainment sound output if necessary. 2. Press the button on the steering wheel. 3. ›C D and multimedia‹ The medium last played is played back. 4. Press the button on t ...
Coolant
General information Danger of burns from hot engine Do not open the cooling system while the engine is hot; otherwise, escaping coolant may cause burns.◀ Suitable additives Only use su ...
Turn signals, front
24-watt bulb, PY24W 1. Rotate bulb holder to the left and remove it along with the bulb. Turn signals, front 2. Rotate the bulb to the right along with the socket and replace. 3. Install in ...