Timeshift
Approx. one hour of the program being broadcast on the channel currently being listened to is stored in a buffer. Prerequisite: the signal must be available.
The stored audio track can be played with a delay following the live broadcast. When the buffer is full, the older tracks are overwritten. The buffer is cleared when a new channel is selected.
Opening the timeshift function
1. "Radio".
2. "Satellite radio".
3.

"Replay - Time shift"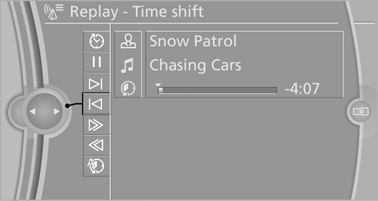 ▷ The red arrow shows the current playback position.
▷ The time difference to the live broadcast is displayed next to the buffer bar.
For live transmissions: "live".
Timeshift menu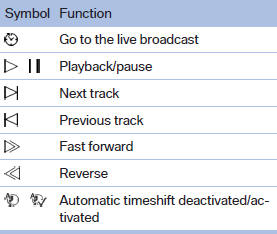 Automatic timeshift
When the function is activated, audio playback is stopped automatically in the event of:
▷ Incoming and outgoing telephone calls.
▷ Activation of the voice activation system.
▷ Muting.
The audio playback then continues with a time delay.
To activate:
1. "Radio".
2. "Satellite radio".
3.

"Replay - Time shift".
4.

"Automatic time shift".
To deactivate:
"Automatic time shift".
See also:
Tow-starting, towing away
Observe the applicable laws and regulations for tow-starting and towing vehicles. Do not transport any passengers other than the driver in a vehicle that is being towed. Using a tow fittingThe ...
1 Series M
Rather than the single-turbo setup from the 135i, the 1 Series M gets a twin-turbo six-cylinder that's good for 335 hp and 332 pounds-feet of torque. In extreme situations, the 1 Series M can ente ...
Safety belts
Observe the adjustment instructions on page 45 to ensure the best possible personal protection. Before every drive, make sure that all occupants wear their safety belts. Airbags complement the s ...