Timeshift
Approx. one hour of the program being broadcast on the channel currently being listened to is stored in a buffer. Prerequisite: the signal must be available.
The stored audio track can be played with a delay following the live broadcast. When the buffer is full, the older tracks are overwritten. The buffer is cleared when a new channel is selected.
Opening the timeshift function
1. "Radio".
2. "Satellite radio".
3.

"Replay - Time shift"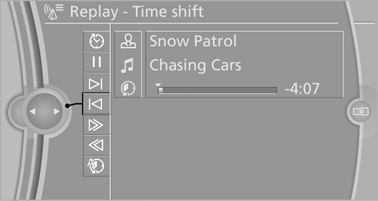 ▷ The red arrow shows the current playback position.
▷ The time difference to the live broadcast is displayed next to the buffer bar.
For live transmissions: "live".
Timeshift menu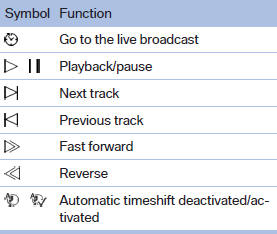 Automatic timeshift
When the function is activated, audio playback is stopped automatically in the event of:
▷ Incoming and outgoing telephone calls.
▷ Activation of the voice activation system.
▷ Muting.
The audio playback then continues with a time delay.
To activate:
1. "Radio".
2. "Satellite radio".
3.

"Replay - Time shift".
4.

"Automatic time shift".
To deactivate:
"Automatic time shift".
See also:
Changing the list view
The list view changes every time the first symbol on the navigation bar is pressed. Information on the channel is displayed. ...
Interior care
Upholstery fabrics/cloth trims/ Alcantara fabrics Vacuum regularly with a vacuum cleaner to remove superficial dirt. To remove severe spots such as stains from beverages, use a soft sponge or lint-f ...
Status of this Owner's Manual at time of printing
The manufacturer of your vehicle pursues a policy of constant development that is conceived to ensure that our vehicles continue to embody the highest quality and safety standards. In rare cas ...