Timeshift
Approx. one hour of the program being broadcast on the channel currently being listened to is stored in a buffer. Prerequisite: the signal must be available.
The stored audio track can be played with a delay following the live broadcast. When the buffer is full, the older tracks are overwritten. The buffer is cleared when a new channel is selected.
Opening the timeshift function
1. "Radio".
2. "Satellite radio".
3.

"Replay - Time shift"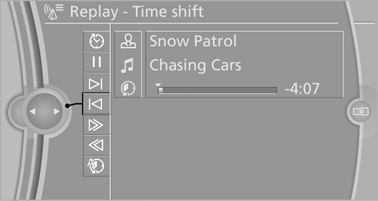 ▷ The red arrow shows the current playback position.
▷ The time difference to the live broadcast is displayed next to the buffer bar.
For live transmissions: "live".
Timeshift menu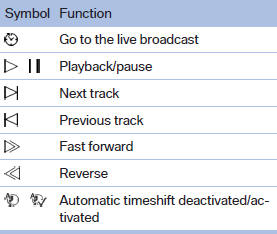 Automatic timeshift
When the function is activated, audio playback is stopped automatically in the event of:
▷ Incoming and outgoing telephone calls.
▷ Activation of the voice activation system.
▷ Muting.
The audio playback then continues with a time delay.
To activate:
1. "Radio".
2. "Satellite radio".
3.

"Replay - Time shift".
4.

"Automatic time shift".
To deactivate:
"Automatic time shift".
See also:
Unpairing the mobile phone
1. "Telephone" 2. "Bluetooth® (phone)" 3. Highlight the mobile phone that is to be unpaired. 4. Open "Options". 5. "Remove phone from list" ...
At a glance
1 Temperature 2 AUTO program 3 Vent settings 4 Air volume, AUTO intensity 5 Display 6 Maximum cooling 7 Seat heating 8 Active seat ventilation Note The air volume of the automatic climate c ...
Status display
The tire and system status is indicated by the color of the tires. A change in the tire inflation pressure during driving is taken into account. A correction is only necessary if this is indicat ...