Timeshift
Approx. one hour of the program being broadcast on the channel currently being listened to is stored in a buffer. Prerequisite: the signal must be available.
The stored audio track can be played with a delay following the live broadcast. When the buffer is full, the older tracks are overwritten. The buffer is cleared when a new channel is selected.
Opening the timeshift function
1. "Radio".
2. "Satellite radio".
3.

"Replay - Time shift"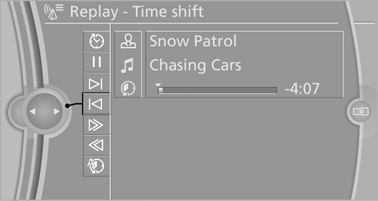 ▷ The red arrow shows the current playback position.
▷ The time difference to the live broadcast is displayed next to the buffer bar.
For live transmissions: "live".
Timeshift menu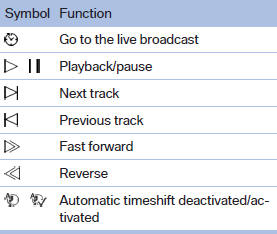 Automatic timeshift
When the function is activated, audio playback is stopped automatically in the event of:
▷ Incoming and outgoing telephone calls.
▷ Activation of the voice activation system.
▷ Muting.
The audio playback then continues with a time delay.
To activate:
1. "Radio".
2. "Satellite radio".
3.

"Replay - Time shift".
4.

"Automatic time shift".
To deactivate:
"Automatic time shift".
See also:
Entry comparison
Entry of names and addresses: the selection is narrowed down every time a letter is entered and letters may be added automatically. The entries are continuously compared to the data stored in t ...
Controls
This chapter is intended to provide you with information that will give you complete control of your vehicle. All features and accessories that are useful for driving and your safety, comfort an ...
Displaying contacts
1. "Contacts" 2. "My contacts" Displaying contacts All contacts are listed in alphabetical order. Depending on the number of contacts, an A-Z search is offered A symbol i ...