Timeshift
Approx. one hour of the program being broadcast on the channel currently being listened to is stored in a buffer. Prerequisite: the signal must be available.
The stored audio track can be played with a delay following the live broadcast. When the buffer is full, the older tracks are overwritten. The buffer is cleared when a new channel is selected.
Opening the timeshift function
1. "Radio".
2. "Satellite radio".
3.

"Replay - Time shift"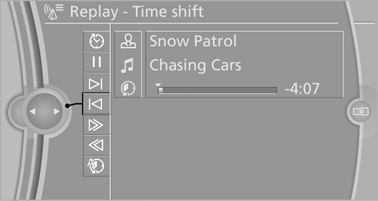 ▷ The red arrow shows the current playback position.
▷ The time difference to the live broadcast is displayed next to the buffer bar.
For live transmissions: "live".
Timeshift menu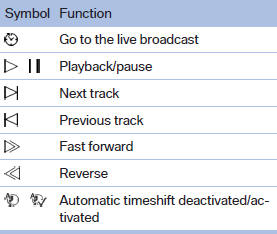 Automatic timeshift
When the function is activated, audio playback is stopped automatically in the event of:
▷ Incoming and outgoing telephone calls.
▷ Activation of the voice activation system.
▷ Muting.
The audio playback then continues with a time delay.
To activate:
1. "Radio".
2. "Satellite radio".
3.

"Replay - Time shift".
4.

"Automatic time shift".
To deactivate:
"Automatic time shift".
See also:
Wheels with electronics for TPM Tire Pressure Monitor
When mounting new tires or changing from summer to winter tires or vice versa, only use wheels with TPM electronics; otherwise, the Tire Pressure Monitor will not be able to detect a flat tire ...
Rotating wheels between axles
The manufacturer of your vehicle advises against swapping wheels between the front and rear axles. This can impair the handling characteristics. Rotating the tires is not permissible when using ...
All around the steering wheel
All around the steering wheel 1. Rear window safety switch 2. Power windows 3. Exterior mirror operation 4. Lamps Instrument lighting &n ...