Setting the compass zones
Sets the particular compass zones on the vehicle so that the compass operates correctly; refer to World map with compass zones.
World map with compass zones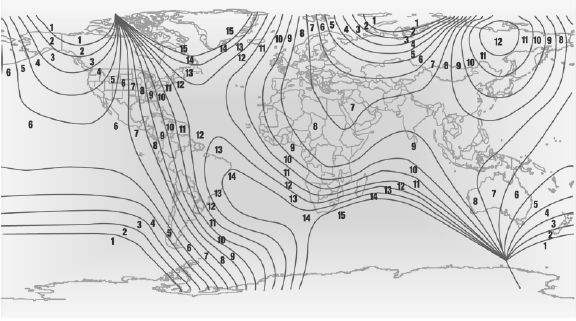 World map with compass zones
Procedure
1. Press and hold the control button for approx.
3 to 4 seconds. The number of the set compass zone appears in the mirror.
2. To change the zone setting, press the control button quickly and repeatedly until the number of the compass zone corresponding to your location appears in the mirror.
The set zone is stored automatically. The compass is ready for use again after approximately 10 seconds.
See also:
In the Cabin
Because each was equipped with the optional Sport Package, both of our test cars had "multi-contoured" power sport seats, which we found comfortable. An additional seat adjustment, which ...
Performance
What sets the 5 Series wagon apart from the A6 and E-Class is the way it drives. Sure, its looks scream BMW inside and out, but so does the sweetly smooth acceleration coming from the twin-turbo s ...
The concept
The vehicle can be accessed without activating the remote control. All you need to do is to have the remote control with you, e.g., in your jacket pocket. The vehicle automatically detects the ...