Run-flat tires
Label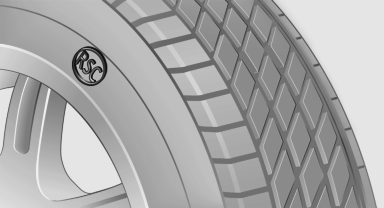 RSC label on the tire sidewall.
The wheels are composed of special rims and tires that are self-supporting, to a limited degree.
The support of the sidewall allows the tire to remain drivable to a restricted degree in the event of a pressure loss.
Continued driving with a damaged tire.
Changing run-flat tires
For your own safety, only use run-flat tires. No spare tire is available in the case of a flat tire. Your service center will be glad to advise you.
See also:
The concept
The iDrive combines the functions of a multitude of switches. Thus, these functions can be operated from a central location. Using the iDrive during a trip To avoid becoming distracted and posi ...
What to do if...
▷ The current transmission position cannot be displayed? The vehicle is located in an unrecognized region, is in a poor reception area, or the system is currently determining the position ...
Determining the load limit
1. Locate the following statement on your vehicle's placard*: The combined weight of occupants and cargo should never exceed XXX kg or YYY lbs. Otherwise, damage to the vehicle and un ...