Run-flat tires
Label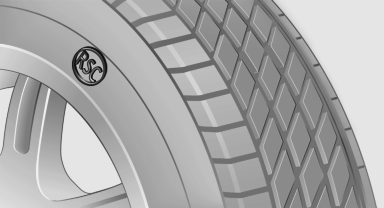 RSC label on the tire sidewall.
The wheels are composed of special rims and tires that are self-supporting, to a limited degree.
The support of the sidewall allows the tire to remain drivable to a restricted degree in the event of a pressure loss.
Continued driving with a damaged tire.
Changing run-flat tires
For your own safety, only use run-flat tires. No spare tire is available in the case of a flat tire. Your service center will be glad to advise you.
See also:
Performance Control
Performance Control enhances the agility of your vehicle. To enhance performance during sporty driving, the rear wheel on the inside of the curve is braked while the resulting braking effect is ...
Warning stages
Prewarning This warning is issued, for example, when there is the impending danger of a collision or the distance to the vehicle ahead is too small. Acute warning Warning of the imminent danger ...
Lamps and bulbs
Lamps and bulbs make an essential contribution to vehicle safety. They should, therefore, be handled carefully. BMW recommends having your BMW center perform any work that you do not feel competen ...