Run-flat tires
Label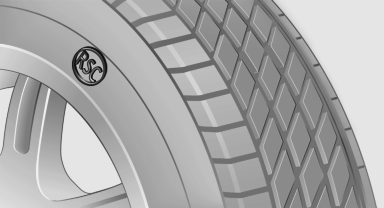 RSC label on the tire sidewall.
The wheels are composed of special rims and tires that are self-supporting, to a limited degree.
The support of the sidewall allows the tire to remain drivable to a restricted degree in the event of a pressure loss.
Continued driving with a damaged tire.
Changing run-flat tires
For your own safety, only use run-flat tires. No spare tire is available in the case of a flat tire. Your service center will be glad to advise you.
See also:
At a glance
These overviews of buttons, switches and displays are intended to familiarize you with your vehicle. You will also become quickly acquainted with the available control concepts and options. ...
Storage
Store wheels and tires in a cool, dry place with as little exposure to light as possible. Always protect tires against all contact with oil, grease and fuels. Do not exceed the maximum tire infl ...
Screens
Adjusting Danger of burns when screen is folded out Do not reach behind the screen; otherwise, there is the danger of getting burned. The back of the screen can become very hot. To fold ...