Display in the instrument cluster
The collision warning can be issued in the instrument cluster, in the Head-up Display, and acoustically.
Warning stages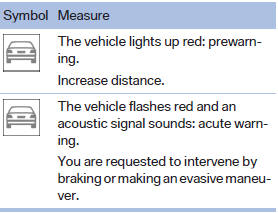 Adapting your speed and driving style
The display does not relieve the driver of the responsibility to adapt his or her driving speed and style to the traffic conditions.
See also:
Buttons at a glance
1 System on/off, interrupt 2 Resume speed 3 Store speed* 4 Reduce distance 5 Store, maintain/change speed 6 Increase distance ...
Dual-mass flywheel with centrifugal pendulum absorber
In all road speed ranges that are relevant in everyday driving, the engineers have achieved reductions in engine speed which have noticeable benefits for fuel consumption. For example when cruisin ...
DSC Dynamic StabilityControl
The concept DSC prevents traction loss in the driving wheels when driving away and accelerating. DSC also recognizes unstable vehicle conditions, such as fishtailing or nose-diving. Subject to ...