Important features in the engine compartment
BMW X5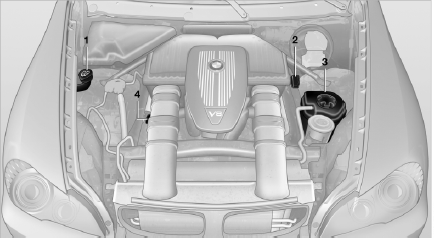 BMW X5
1. Filler neck for washer fluid for the headlamp and window washer system
2. Starting aid terminal 3. Coolant expansion tank 4. Engine oil filler neck
BMW X6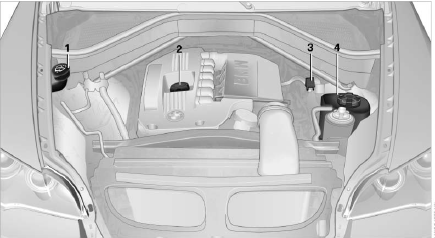 BMW X6
1. Filler neck for the washer fluid for the headlamp and window washer system
2. Engine oil filler neck
3. Starting aid terminal
4. Coolant expansion tank
See also:
BMW X5 xDrive50i: BMW's Twin-Turbocharged V-8.
The new BMW X5 xDrive50i takes its place as the flagship of the X5 family, yielding 400 horsepower at 5,500 rpm and 450 lb-ft of torque at 1,750 - 4,500 rpm from its twin-turbocharged 4.4 liter V- ...
The Inside
The interior styling is all-new, but BMW has taken an evolutionary approach, as there's still a strong resemblance to the previous generation's cabin. Befitting this class, it's decked out with ri ...
Parked-car ventilation
The concept The parked-car ventilation ventilates the vehicle interior and lowers its temperature, if necessary. The system can be switched on and off directly or by using two preset switch-on t ...