Important features in the engine compartment
BMW X5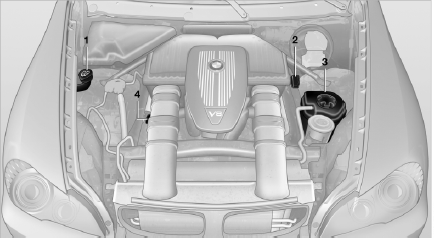 BMW X5
1. Filler neck for washer fluid for the headlamp and window washer system
2. Starting aid terminal 3. Coolant expansion tank 4. Engine oil filler neck
BMW X6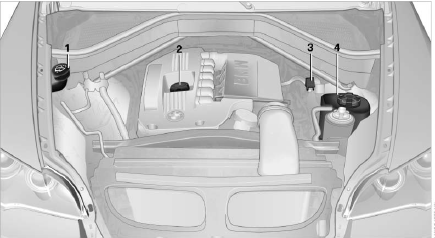 BMW X6
1. Filler neck for the washer fluid for the headlamp and window washer system
2. Engine oil filler neck
3. Starting aid terminal
4. Coolant expansion tank
See also:
Condensation under the parked vehicle
When using the automatic climate control, condensation water develops that exits underneath the vehicle. Therefore, traces of condensed water under the vehicle are normal. ...
The concept
The vehicle alarm system responds to: Opening of a door, the hood or the trunk lid. Movements in the vehicle: interior motion sensor. Changes in the vehicle tilt, e.g., during attempts t ...
Status display
The tire and system status is indicated by the color of the tires. A change in the tire inflation pressure during driving is taken into account. A correction is only necessary if this is indicat ...