Engaging transmission position
▷ Transmission position P can only be disengaged if the engine is running and the brake pedal is pressed.
▷ With the vehicle stationary, press on the brake pedal before shifting out of P or N; otherwise, the shift command will not be executed: shift lock.

Press on the brake pedal until you start driving
To prevent the vehicle from creeping after you select a driving position, maintain pressure on the brake pedal until you are ready to start.◀
Shifting into D, R, N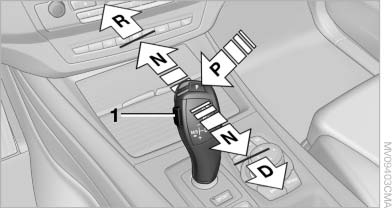 Shifting into D, R, N
Briefly push the selector lever in the desired direction, beyond a resistance point if necessary.
When shifting out of P or into R, simultaneously push the unlock button 1.
The engaged transmission position is displayed on the selector lever.
After releasing the selector lever, it returns to its center position.
Engaging P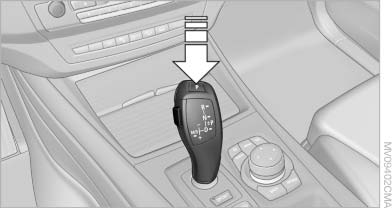 Engaging P
Press button P.
P is engaged if the driver's safety belt is unbuckled and the driver's door is opened while the vehicle is stationary and transmission position R or D is engaged. Before leaving the vehicle, ensure that the transmission position P is engaged; otherwise, the vehicle may begin to roll.
See also:
Opening and closing: Using the remote control
Persons or animals in a parked vehicle could lock the doors from the inside. You should therefore take the remote control with you when you leave the vehicle so that the latter can be opened from ...
The BMW X3 xDrive35i: Class leading performance and efficiency.
The new top model BMW X3 xDrive35i features BMW's newest turbocharged 3.0-liter inline-6 "N55" engine combining direct fuel injection, twin-scroll turbo technology and Valvetronic. The N ...
Compact wheel
Safety precautions in the event of a flat tire or wheel change Park the vehicle as far as possible from passing traffic and on solid ground. Switch on the hazard warning system. Set the park ...