Engaging transmission position
▷ Transmission position P can only be disengaged if the engine is running and the brake pedal is pressed.
▷ With the vehicle stationary, press on the brake pedal before shifting out of P or N; otherwise, the shift command will not be executed: shift lock.

Press on the brake pedal until you start driving
To prevent the vehicle from creeping after you select a driving position, maintain pressure on the brake pedal until you are ready to start.◀
Shifting into D, R, N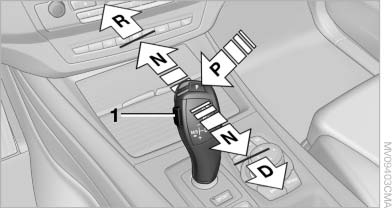 Shifting into D, R, N
Briefly push the selector lever in the desired direction, beyond a resistance point if necessary.
When shifting out of P or into R, simultaneously push the unlock button 1.
The engaged transmission position is displayed on the selector lever.
After releasing the selector lever, it returns to its center position.
Engaging P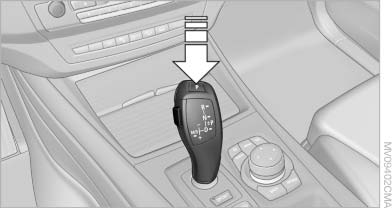 Engaging P
Press button P.
P is engaged if the driver's safety belt is unbuckled and the driver's door is opened while the vehicle is stationary and transmission position R or D is engaged. Before leaving the vehicle, ensure that the transmission position P is engaged; otherwise, the vehicle may begin to roll.
See also:
Information in detail
Range Displays the estimated cruising range available with the remaining fuel. It is calculated based on your driving style over the last 18 miles/30 km. Average speed Periods in which the veh ...
Activating
Switch position with the ignition switched on. The turning lamps are automatically switched on depending on the steering angle or the use of turn signals. To avoid blinding oncoming traffic ...
Split screen
General information Additional information can be displayed on the right side of the split screen, e.g., information from the onboard computer. In the divided screen view, the so-called split s ...