Engaging transmission position
▷ Transmission position P can only be disengaged if the engine is running and the brake pedal is pressed.
▷ With the vehicle stationary, press on the brake pedal before shifting out of P or N; otherwise, the shift command will not be executed: shift lock.

Press on the brake pedal until you start driving
To prevent the vehicle from creeping after you select a driving position, maintain pressure on the brake pedal until you are ready to start.◀
Shifting into D, R, N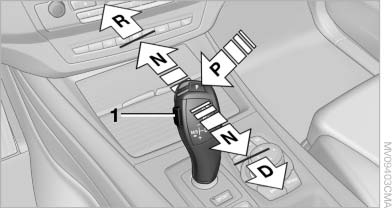 Shifting into D, R, N
Briefly push the selector lever in the desired direction, beyond a resistance point if necessary.
When shifting out of P or into R, simultaneously push the unlock button 1.
The engaged transmission position is displayed on the selector lever.
After releasing the selector lever, it returns to its center position.
Engaging P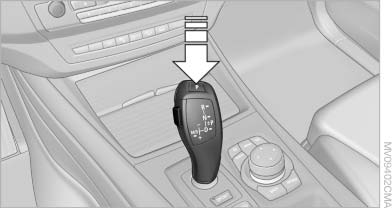 Engaging P
Press button P.
P is engaged if the driver's safety belt is unbuckled and the driver's door is opened while the vehicle is stationary and transmission position R or D is engaged. Before leaving the vehicle, ensure that the transmission position P is engaged; otherwise, the vehicle may begin to roll.
See also:
Gas station recommendation
The remaining range is calculated, and if necessary gas stations along the route are displayed. 1. "Navigation" 2. "Route information" 3. "Recommended refuel" A lis ...
Settings and information
Operating principle 1. Button for: > Selecting display > Setting values 2. Button for: > Confirming selected display or set values > Calling up computer information 3. ...
Selecting the sorting order of the names
Names can be displayed in a different order. 1. "Office" 2. "Contacts" 3. Open "Options". 4. "Display: last, first name" or "Display: first, last nam ...