Redialing
General information
The list of dialed numbers in the mobile phone is transmitted to the vehicle depending on the mobile phone. Possibly only those numbers are displayed that were dialed from the vehicle.
The 20 phone numbers dialed last are displayed.
The sorting order of the phone numbers depends on the particular mobile phone.
Dialing the number via the iDrive
1. "Telephone"
2. "Redial"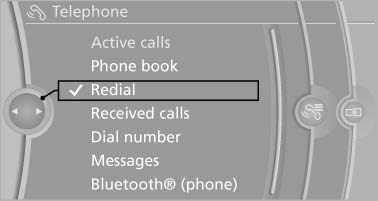 Dialing the number via the iDrive
3. Select the desired entry and the phone number if necessary.
The connection is established.
Saving an entry in the contacts
1. Highlight the entry.
2. Open "Options".
3. "Store as new contact" or "Add to existing contact"
4. Select "New phone number" or contact.
5. Select t

he type of number: "Home", "Business", "Mobile", or "Other" 6. Complete the entries if necessary.
7. If necessary, "Store contact in vehicle".
See also:
Increasing or decreasing vehicle speed
You can specify your desired speed in the range from approx. 4 mph/6 km/h to approx. 15 mph/ 25 km/h using the rocker switch of the cruise control on the steering wheel. You can change the veh ...
Indicator/warning lamps
The indicator and warning lamps can light up in a variety of combinations and colors. Several of the lamps are checked for proper functioning and light up temporarily when the engine is start ...
General information
The system supports you in entering street names and house numbers by automatically completing the entry and providing entry comparisons Stored town/city and street names can be called up quick ...