Connecting a specific device
If more than one device is detected by the vehicle, the device at the top of the list is connected.
A different device can be connected by selecting it.
1. "Telephone"
2. "Bluetooth® (phone)"
3. Select the device that is to be connected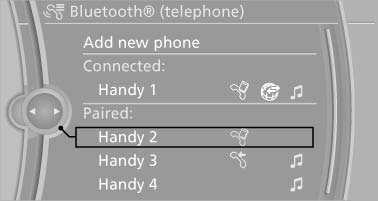 Select the device that is to be connected
The functions that were assigned to the device before unpairing are assigned to the device when it is reconnected. If the device is already connected, these functions are deactivated.
See also:
Bypassing a section of the route
Calculate a new route for a route section. 1. "Navigation" 2. "Route information" 3. "New route for" 4. Turn the controller. Enter the number of miles within whi ...
PostCrash
In the event of an accident, the system can bring the car to a halt automatically without intervention by the driver in certain situations. This can reduce the risk of a further collision. Depr ...
Tasks
Displaying the task list Display tasks that are due within the next 90 days. 1. "Office". 2. "Tasks" Sorting the task list 1. Select the header in the task list. 2. Selec ...