BMW Search
At a glance
A business search can be opened via BMW Search.
License conditions
This product contains NetFront Browser software of ACCESS Co., Ltd. Copyright © 2007 ACCESS Co., Ltd. All rights reserved.
NetFront is a trademark or registered trademark of ACCESS CO., LTD., in Japan and other countries.
This software is based in part on the work of the Independent JPEG Group.
Requirements
▷ Subscription to the optional Convenience Plan.
▷ The date setting, on the Control Display is current.
▷ The vehicle is located within wireless network coverage.
Starting BMW Search
1. "BMW Assist" or "ConnectedDrive".
2. "BMW Online"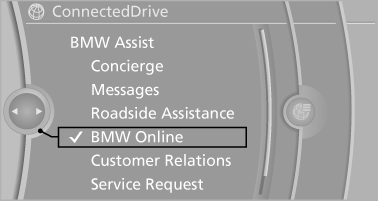 3. If necessary, "OK".
The BMW Search home page is displayed.
Operating BMW Search
To start a search:
▷ Turn the controller to highlight an element.
▷ Press the controller to display an element.
Opening the start page
1. "Options" Open.
2. "Display start page"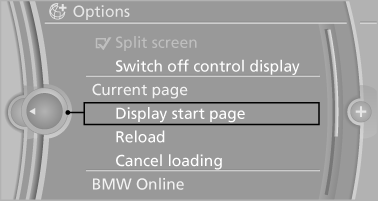 Loading a new page
1. "Options" Open.
2. "Update"
Cancel
1. "Options" Open.
2. "Cancel loading"
See also:
Unpairing a device
1. "Telephone" 2. "Bluetooth® (phone)" 3. Highlight the device that is to be unpaired. 4. Open "Options". 5. "Remove phone from list" ...
Possible commands
Most menu items on the Control Display can be voiced as commands. The available commands depend on which menu is currently displayed on the Control Display. There are short commands for function ...
Buttons on the remote control
Buttons on the remote control 1. Unlocking 2. Locking 3. Opening tailgate ...