At a glance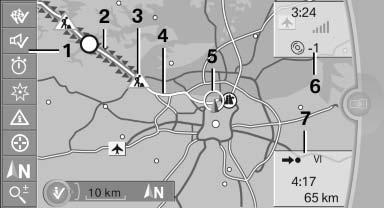 At a glance
1 Function bar
2 Route section with traffic obstruction
3 Traffic sign for traffic obstruction
4 Planned route
5 Current location
6 Upper status field
7 Lower status field
Lines in the map
Streets and routes are displayed in different colors and styles depending on their classification.
Dashed lines represent railways and ferry connections.
Country borders are indicated by thin lines.
Traffic obstructions
Small triangles along the planned route indicate route sections with traffic obstructions, depending on the map scale. The direction of the triangles indicates the direction of the obstruction.
The traffic signs indicate the significance of the obstruction.
▷ Red traffic sign: the obstruction affects the planned route or direction.
▷ Grey traffic sign: the obstruction does not affect the planned route or direction.
Traffic bulletins
Planned route
After destination guidance is started, the planned route is displayed on the map.
Status fields
Show/hide: press the controller.
▷ Upper status field: time, telephone, and entertainment details.
▷ Lower status field: symbol for active destination guidance, status of traffic bulletins, time of arrival, and distance to destination.
Function bar
The following functions are available in the function bar: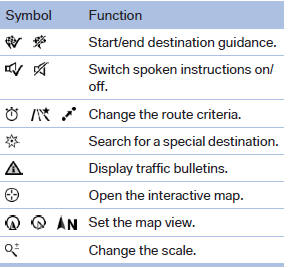 To change to the function bar, move the controller to the left.
See also:
The Inside
The X3's redesigned interior continues the sparse, minimalistic design approach that BMW favors, but it does a better job of integrating the center screen, which serves as the display for the stan ...
Integrated key
Press the button on the back of the remote control, arrow 1, and pull out the key, arrow 2. The integrated key fits the following locks: ► Driver's door. ► Glove compartment on t ...
Malfunction of the automatic deactivation system
When transporting older children and adults, the front passenger airbags may be deactivated in certain sitting positions. In this case, the indicator lamp for the front passenger airbags lights ...