Changing the route criteria
1. "Navigation"
2. "Map"
3.

"Route preference"
4. Select the criterion:
▷

"Fast route": time-optimized route, being a combination of the shortest possible route and the fastest roads.
▷

"Efficient route": optimized combination of the fastest and shortest route.
▷

"Short route": short distance, irrespective of how fast or slow progress will be.
▷ "Alternative routes": if available, alternative routes are suggested during active destination guidance. The individual suggestions are highlighted in color.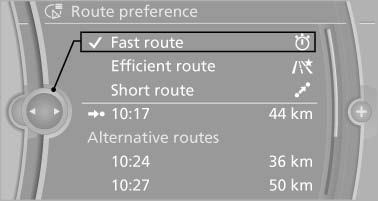 Alternative routes
5. Specify additional criteria for the route, if necessary:
▷ "Avoid highways": highways are avoided wherever possible.
▷ "Avoid toll roads": toll roads are avoided wherever possible.
▷ "Avoid ferries": ferries are avoided where possible.
See also:
Text messages
Text messages in combination with a symbol in the instrument cluster explain a Check Control message and the meaning of the indicator and warning lamps. ...
Activating/deactivating Bluetooth
Bluetooth is not permitted everywhere. Comply with all safety guidelines and regulations. 1. "Telephone" 2. "Options" Open. 3. "Bluetooth®" ...
Entering a town/city separately
The town/city can be said as a complete word. With the destination entry menu displayed: 1. Press the button on the steering wheel. 2. ›City‹ or ›Spell city‹ 3. Wait for the system to prompt ...