Front ventilation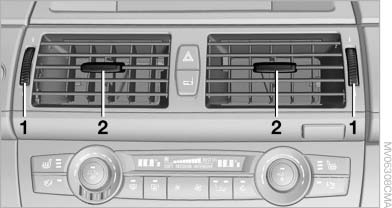 Front ventilation
1. Use the thumbwheels to smoothly open and close the air vents
2. Use the lever to change the direction of the air flow

Avoiding injury
Do not drop any foreign objects into the air vents, otherwise these could be catapulted outwards and lead to injuries.◀
Ventilation for cooling
Adjust the vents to direct the flow of cool air in your direction, for instance if the interior has become too warm.
Draft-free ventilation
Set the air vents so that the air flows past you and is not directed straight at you.
See also:
Automatic deactivation during forward travel
The system switches off when a certain driving distance or speed is exceeded. Switch the system back on if necessary. ...
Energy recovery
The energy of motion of the vehicle is converted to electrical energy while coasting. The vehicle battery is partially charged and fuel consumption can be lowered. ...
System limits
Speed range Best results are achieved when using the system on well-developed roads and highways. The desired speed can be selected between 20 mph/30 km/h to 110 mph/180 km/h. The system can a ...