Fuel filler flap
Opening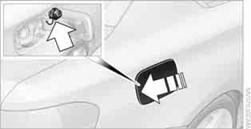 1. Open the fuel filler flap. To do so, lightly press the rear edge.
2. Turn the fuel cap counterclockwise.
3. Place the fuel cap in the bracket attached to the fuel filler flap.
Closing
Fit the cap and turn it clockwise until you clearly hear a click.

Do not pinch the band attached to the cap; otherwise, the cap cannot be closed properly and fuel vapors can escape. A message will be displayed if the fuel cap is loose or missing.
Manually releasing the fuel filler flap
In the event of a malfunction, you can release the fuel filler flap manually:
1. Remove the cover from the right-hand sidewall of the cargo area.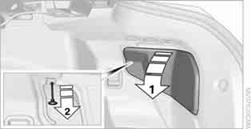 2. Pull the button with the fuel pump symbol down.
The fuel filler flap is released.

Observe the following when refueling When handling fuels, follow the safety instructions provided at filling stations; otherwise, there is a risk of personal injury or property damage.
When refueling, insert the filler nozzle completely into the filler pipe. Avoid lifting the filler nozzle while filling the tank, as that would lead to
> Premature pump shutoff
> Reduced efficiency of the fuel-vapor recovery system.
The fuel tank is full when the filler nozzle clicks off the first time.
Fuel tank capacity
Approx. 14 US gal/53 liters, including the reserve capacity of 2.1 US gal/8 liters.

Refuel as soon as possible once your cruising range falls below 30 miles/50 km; otherwise, engine functions are not ensured and damage can occur.
See also:
Sitting safely
The ideal seating position can make a vital contribution to relaxed, fatigue-free driving. The seating position plays an important role in an accident in combination with: ► Safety belts ...
Adding engine oil
Filler neck When the indicator lights up in the instrument cluster, add 1 US quart/liter of engine oil within the next 125 miles/200 km. Protect children Keep oil, grease, etc., out of reach o ...
Adjusting the volume
Turn the knob until the desired volume is selected. The setting is stored for the remote control currently in use. The vehicle automatically adjusts the volume of the microphone on the telephon ...