Navigation data
General information
Navigation data and authorization codes are available from your BMW center. Navigation data are stored in the vehicle and can be updated.
> Depending on the data volume, a data update may take several hours.
> Update data while driving to reduce the drain on the battery.
> Only the main functions of the navigation system are available during updating.
The update is resumed automatically when a trip is continued after an interruption.
> You can inquire as to the status of the update.
> The data are stored in the vehicle.
> After the update, the system restarts.
> The medium that holds the navigation data can be removed after the update is completed.
Information about navigation data
1. "Navigation"
2. Open "Options".
3. "Navigation system version":
Information about the data version is displayed.
Updating the navigation data
Inserting navigation DVD
1. Insert the navigation DVD into the DVD
player with the labeled side facing up.
2. Follow the instructions on the Control Display.
3. Enter the authorization code of the navigation DVD and change the DVD if needed.
Removing navigation DVD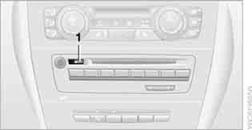 1. Press

button 1.
The DVD emerges slightly from the drive.
2. Remove the DVD.
Querying status
1. Press the

button.
2. "Navigation update"
See also:
Visual warning
The approach of the vehicle to an object can be shown on the Control Display. When the distance to an object is small, a red bar is shown in front of the vehicle, as it is in the PDC display. ...
Engine and differential
Always obey the official speed limit. Up to 1,200 miles/2,000 km Do not exceed the maximum engine and road speed: ▷ For gasoline engine, 4,500 rpm and 100 mph/160 km/h. Avoid full-thrott ...
Actions in the event of a flat tire
Run-flat tires You can continue driving with a damaged tire at speeds up to 50 mph/80 km/h. Do not continue driving without run-flat tires If the vehicle is not equipped with run-flat tires ...