Convertible: through-loading opening with integrated transport bag
The transport bag is designed for safe, clean transport of up to 4 pairs of standard skis or up to 2 snowboards.
With the transport bag you can stow skis up to a length of 6.6 ft/2.0 m. When skis of 6.6 ft/2.0 m length are loaded, the overall capacity of the ski bag is reduced due to its tapered design.

When using the transport bag, it is not permissible to transport passengers in the rear seats.
Loading
1. Pull the grip in the filler piece of the rear backrest up and take out the filler piece.
2. Place the filler piece onto the seat cushion with the backrest side facing up.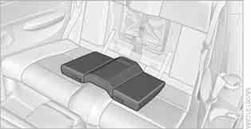 3. In the cargo area: press the two recesses together and fold down the cover.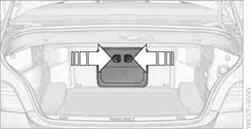 4. Release the strap, lay out the transport bag between the front seats and load it.
The zip fastener makes objects in the ski bag easier to reach.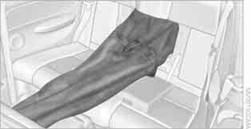 Ensure that the skis are clean when you load them into the transport bag. Wrap sharp edges to prevent damage.
Securing cargo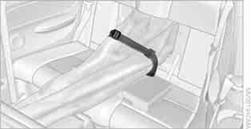 After loading, secure the transport bag and its contents. Tighten the retaining strap on the tensioning buckle for this purpose.

Secure the transport bag in the manner described; otherwise, it could endanger the car's occupants, e.g. in case of heavy braking or sudden swerving.
To store the transport bag, perform the steps described for loading in reverse order.
See also:
Controller
Select menu items and create settings. 1. Turn. 2. Press. 3. Move in four directions. Buttons on controller ...
All around the center console
1 Headliner 2 Control Display 3 Glove compartment, top/bottom 4 Air vent 5 Hazard warning system Central locking system 6 Radio CD/Multimedia 7 Automatic climate control 8 Controller with ...
Tire inflation pressures
Information for your safetyIt is not merely the tires' service life, but also driving comfort and, to a great extent, driving safety that depend on the condition of the tires and the maintenance ...