High beams/roadside parking lamps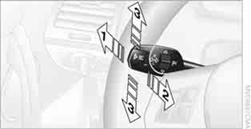 1 High beams
2 Headlamp flasher
3 Roadside parking lamps
Roadside parking lamps, left or rightThere is an additional option of switching on the lamps on the side of the car facing the road when parked.
Switching on
After parking the vehicle, press the lever up or down beyond the pressure point for approx.
1 second, arrow 3.

The roadside parking lamps drain the battery. Therefore, do not leave them on for unduly long periods of time; otherwise, the battery might not have enough power to start the engine.
Switching off
Press the lever in the opposite direction to the pressure point, arrow 3.
See also:
The concept
This system can replace up to three different hand-held transmitters for various types of remote- controlled equipment, such as garage doors or lighting systems. The hand-held transmitter signa ...
Changing wheels and tires
Mounting Information on mounting tires Have mounting and balancing performed only by a service center or tire specialist. If this work is not carried out properly, there is the danger of subse ...
Parked-car ventilation
The concept The parked-car ventilation ventilates the vehicle interior and lowers its temperature, if necessary. The system can be switched on and off directly or by using two preset switch-on t ...