Odometer, outside temperature display, clock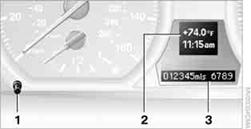 1. Knob in the instrument cluster
2. Outside temperature and clock
3. Odometer and trip odometer
Knob in the instrument cluster
> To reset the trip odometer while the ignition is switched on
> To display the time, outside temperature and odometer briefly while the ignition is switched off
Units of measure
To select the respective units of measure, miles or km for the odometer as well as 7 or 6 for the outside temperature, refer to Units of measure on page 74.
The setting is stored for the remote control currently in use.
Time, outside temperature display
Setting the time.
Outside temperature warning
When the displayed temperature falls to approx.
+37 7/+3 6, a signal sounds and a warning lamp lights up. There is an increased risk of black ice.
Black ice can also form at temperatures above +37 7/+3 6. You should there fore drive carefully on bridges and shaded roads, for example; otherwise, there is an increased risk of an accident.
Odometer and trip odometer
Resetting the trip odometer:
With the ignition switched on, press button 1in the instrument cluster.
When the vehicle is parked
If you still want to view the time, outside temperature and odometer reading briefly after the remote control has been taken out of the ignition lock:
Press button 1in the instrument cluster.
See also:
The concept
With Active Protection, critical driving situations that might lead to an accident can be detected. In in these situations, preventative protection measures are automatically undertaken to minimi ...
Status of this Owner's Manual at time of printing
The manufacturer of your vehicle pursues a policy of constant development that is conceived to ensure that our vehicles continue to embody the highest quality and safety standards. In rare cas ...
At a glance
1. Function bar 2. Route section with traffic obstruction 3. Traffic sign for traffic obstruction 4. Planned route 5. Current location 6. Upper status field 7. Lower status field Lines in the ...