Washer fluid

Washer fluid is flammable. Therefore, keep it away from ignition sources and only store it in the closed original container that is kept out of reach of children; otherwise, there is a risk of personal injury. Comply with the instructions on the container.
Washer fluid filler neck

Only refill washer fluid when the engine is cool to avoid contact with hot engine parts. Otherwise, fluid spills constitute a fire hazard and a risk to personal safety.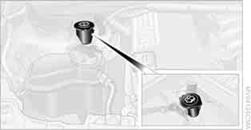 All washer nozzles are supplied with washer fluid by the same reservoir.
Fill with water and, if required, with a washer antifreeze, according to manufacturer's recommendations.

Mix the water and antifreeze before filling the washer fluid reservoir to make sure the correct concentration is maintained.
Capacity
Approx. 6.3 US quarts/6 liters.
See also:
Text messages
Text messages at the upper edge of the Control Display in combination with a symbol in the instrument cluster explain a Check Control message and the meaning of the indicator and warning lamps ...
Malfunction
Comfort Access may not function properly if it experiences interference from local radio waves, e.g., mobile phones. If this occurs, open or close the vehicle using the buttons on the remote co ...
Configuring the warning time
After the warning function is switched on, the warning time can be set via the iDrive. For a late warning time, prewarning is deactivated. These settings have no effect on the time of the warni ...