Manual transmission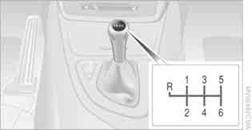 When shifting into 5th or 6th gear, press the gearshift lever to the right. Otherwise, the engine could be damaged if you inadvertently shift into 3rd or 4th gear.
Reverse gear
Select this only when the vehicle is stationary. When the gearshift lever is pressed to the left, a slight resistance has to be overcome.
See also:
Notes
Always make sure that safety belts are being worn by all occupants before driving away. Although airbags enhance safety by providing added protection, they are not a substitute for safety belts ...
Tire tread
Summer tires Do not drive with a tire tread depth of less than 0.12 in/3 mm. There is an increased danger of hydroplaning if the tread depth is less than 0.12 in/3 mm. Winter tires Do not driv ...
Warning of people in danger
If the system detects a person in the defined area in front of the vehicle and if there is the danger of a collision with this person, a warning symbol appears in the Control Display and Hea ...