Split screen
General information
Additional information can be displayed on the right side of the split screen, e.g., information from the computer.
In the divided screen view, the so-called split screen, this information remains visible even when you change to another menu.
Switching the split screen on and off
1.

Press the button
2. "Split screen"
Selecting the display
1.

Press the button
2. "Split screen"
3. Move the controller until the split screen is selected.
4. Press the controller or select "Split screen content".
5. Select the desired menu item.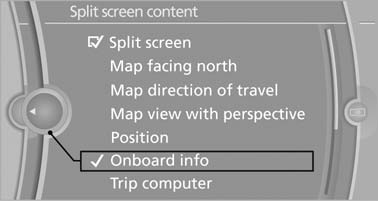 Select the desired menu item
See also:
System limits
Check the traffic situation as well PDC cannot serve as a substitute for the driver's personal judgment of the traffic situation. Check the traffic situation around the vehicle with your own ey ...
Entering dates
Enter the dates for the required inspections. Make sure the date on the Control Display is set correctly 1. "Vehicle Info" 2. "Vehicle status" 3. "Service required&qu ...
Protective action
Airbags are not triggered in every impact situation, e.g., in less severe accidents or rear-end collisions. Information on how to ensure the optimal protective effect of the airbags ► Keep ...