Coolant level
Checking
1. Let the engine cool.
2. Turn the cap of the expansion tank slightly counterclockwise to allow any excess pressure to dissipate, and then open it.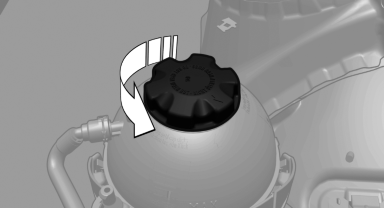 3. The coolant level is correct if it lies between the minimum and maximum marks in the filler neck.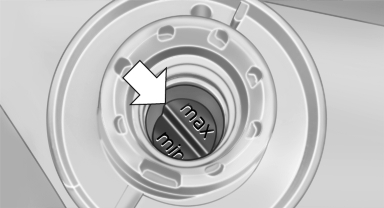 4. If the coolant is low, slowly add coolant up to the specified level; do not overfill.
5. Turn the cap until there is an audible click.
6. Have the cause of the coolant loss eliminated as soon as possible.
See also:
Volume
► "Speed volume": speed-dependent volume control. ► "PDC": volume of the PDC signal compared to the entertainment sound output. ► "Gong": volume of ...
Tire tread
Summer tires Do not drive with a tire tread depth of less than 0.12 in/3 mm. There is an increased danger of hydroplaning if the tread depth is less than 0.12 in/3 mm. Winter tires Do not driv ...
Adjusting the side extensions
Fold the side extensions on the head restraint forward for increased lateral support in the resting position. ...