Tire tread
Summer tires
Do not drive with a tire tread depth of less than 0.12 in/3 mm.
There is an increased danger of hydroplaning if the tread depth is less than 0.12 in/3 mm.
Winter tires
Do not drive with a tire tread depth of less than 0.16 in/4 mm.
Below a tread depth of 0.16 in/4 mm, tires are less suitable for winter operation.
Minimum tread depth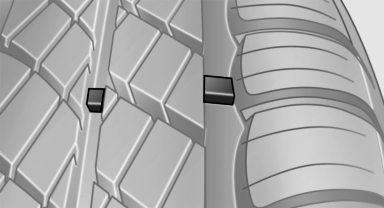 Wear indicators are distributed around the tire's circumference and have the legally required minimum height of 0.063 in/1.6 mm.
They are marked on the side of the tire with TWI, Tread Wear Indicator.
See also:
System limits
Sudden tire damage Sudden serious tire damage caused by external influences cannot be indicated in advance. A natural, even pressure loss in all four tires cannot be detected. Therefore, check ...
All other models: Oil levelcheck
The concept The oil level is monitored electronically during driving and shown on the Control Display. If the oil level reaches the minimum level, a check control message is displayed. Requirem ...
Lighter
Lighter With the engine running or the ignition switched on, press in the cigarette lighter. The lighter can be removed as soon as it pops back out. Danger of burns Only hold the hot light ...