Coolant level
Checking
1. Let the engine cool.
2. The coolant level is correct if it lies between the minimum and maximum marks. The marks are on the side of the coolant reservoir.
Adding engine oil
1. Let the engine cool.
2. Turn the cap of the coolant reservoir slightly counterclockwise to allow any excess pressure to dissipate, and then open it.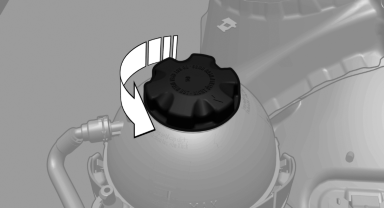 3. If the coolant is low, slowly add coolant up to the specified level; do not overfill.
4. Turn the cap until there is an audible click.
5. Have the cause of the coolant loss eliminated as soon as possible.