New contact
General information
A contact can have up to 8 phone numbers, 2 addresses, 3 e-mail addresses and one Internet address.
1. "Office".
2. "Contacts".
3. "Options" Open.
4. "New contact"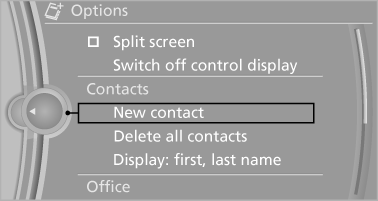 5. The entry fields are still filled with the previous entries: "Delete input fields".
6. Fill in the entry fields: select the symbol next to the entry field.
7. Enter the text and assign the contact type.
8. In the navigation system: enter address.
Only addresses contained in the navigation data in the vehicle can be entered. This ensures that destination guidance is possible for all addresses.
If necessary, "Accept address".
9. "Store contact in vehicle"
Contact types
Various contact types can be assigned to phone numbers and addresses.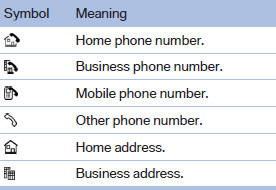 Specifying the home address
A home address can be stored. It appears at the top of the contact list.
1. "Home".
2. Create a contact.
3. "Store contact in vehicle"
See also:
Symbols
Indicates precautions that must be followed precisely in order to avoid the possibility of personal injury and serious damage to the vehicle. ◄ Marks the end of a specific item of inf ...
Pressure specifications
The tables below provide all the correct inflation pressures for the specified tire sizes at ambient temperature. The inflation pressures apply to the tire sizes approved and tire brands recomm ...
Tone
Only treble and bass can be set in the rear for headphones. The settings are made separately for the left and right headphones. Operation is the same as for the front tone. ...