Turn signal

Do not fold in the exterior mirrors
During driving and during the operation of the turn signals/warning flashers, do not fold in the exterior mirror, or else the additional flasher lights in the exterior mirror do not have the prescribed position and can only be poorly detected.
Using turn signals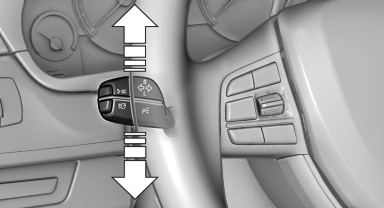 Press the lever beyond the resistance point.
To switch off manually, press the lever to the resistance point.
Unusually rapid flashing of the indicator lamp indicates that a turn signal bulb has failed.
Triple turn signal activation
Press the lever to the resistance point.
The turn signal flashes three times.
The function can be activated or deactivated:
1. "Settings"
2. "Lighting"
3. "Triple turn signal"
Signaling briefly
Press the lever to the resistance point and hold it there for as long as you want the turn signal to flash.
See also:
Damage to safety belts
In the case of strain caused by accidents or damage: Have the safety belts, including the safety belt tensioners, replaced and have the belt anchors checked. Checking and replacing safety b ...
Climate control laminated tinted safety glass
The vehicle glass provides full protection against the harmful effects of UV radiation on the skin. ...
Parked-car ventilation
The concept The parked-car ventilation ventilates the vehicle interior and lowers its temperature, if necessary. The system can be switched on and off directly or by using two preset switch-on t ...