Components of the integrated Owner's Manual
The integrated Owner's Manual consists of three parts, which offer various levels of information or access possibilities.
Quick Reference Guide
Located in the Quick Reference is important information for the operation of the vehicle, the operation of basic vehicle functions or for what to do in the event of a flat tire. This information can also be displayed during driving.
Search by pictures
Information and descriptions based on illustrations can be searched via search by pictures.
This is helpful, for example, if the description of an outfitting package that cannot be named is needed.
Owner's Manual
Information and descriptions can be searched by direct entry of a search term via the index.
Select components
1.

Press the button.
2. Turn the controller: open "Vehicle Info".
3. Press the controller.
4. Selecting desired range:
▷ "Quick reference"
▷ "Search by pictures"
▷ "Owner's Manual"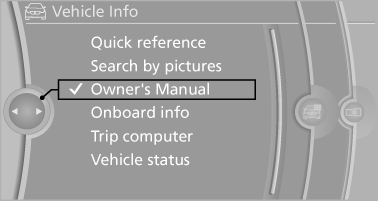 See also:
Example: playing back a CD
1. Switch on the Entertainment sound output if necessary. 2. Press the button on the steering wheel. 3. ›C D and multimedia‹ The medium last played is played back. 4. Press the button ...
The concept
The rear view camera assists you when parking and maneuvering in reverse. To accomplish this, the region behind your vehicle is shown on the Control Display. ...
iDrive in the rear
Operation is the same as for the iDrive in the front. To adjust the volume: turn, arrows 1. To activate the controller and switch between the screens: press the buttons, arrows 2. ...