Components of the integrated Owner's Manual
The integrated Owner's Manual consists of three parts, which offer various levels of information or access possibilities.
Quick Reference Guide
Located in the Quick Reference is important information for the operation of the vehicle, the operation of basic vehicle functions or for what to do in the event of a flat tire. This information can also be displayed during driving.
Search by pictures
Information and descriptions based on illustrations can be searched via search by pictures.
This is helpful, for example, if the description of an outfitting package that cannot be named is needed.
Owner's Manual
Information and descriptions can be searched by direct entry of a search term via the index.
Select components
1.

Press the button.
2. Turn the controller: open "Vehicle Info".
3. Press the controller.
4. Selecting desired range:
▷ "Quick reference"
▷ "Search by pictures"
▷ "Owner's Manual"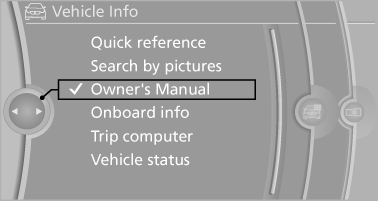 See also:
Air volume, manual
To be able to manually adjust the air volume, switch off the AUTO program first. Press the left or right side of the button: decrease or increase air volume. The selected air volume is shown ...
Information in detail
Range Displays the estimated cruising range available with the remaining fuel. It is calculated based on your driving style over the last 20 miles/30 km. If there is only enough fuel left for l ...
General information
Antifreeze for washer fluid Antifreeze is flammable. Therefore, keep it away from sources of ignition. Only keep it in the closed original container and inaccessible to children. Follow th ...