Oil types for refilling
Notes

No oil additives
Do not use oil additives as these may cause engine damage.◀

Viscosity classes of engine oils
When selecting an engine oil, ensure that the engine oil belongs to one of the viscosity classes SAE 0W-40, SAE 0W-30, SAE 5W-40, or SAE 5W-30, or malfunctions or engine damage may occur.◀
The engine oil quality is critical for the life of the engine.
Due to national regulations, some oil types are not available in every country.
Approved oil types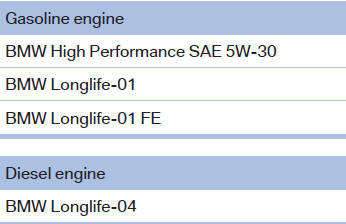 Further information on approved oil types can be obtained from the service center.
Alternative oil types
If the approved engine oils are not available, up to 1 US quart/liter of an oil with the following specification can be used: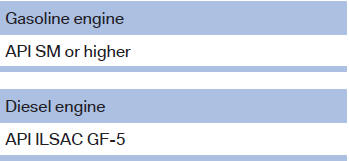 Oil change
An oil change should be carried out by the service center only.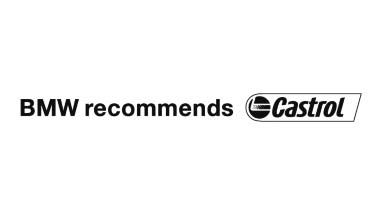 See also:
Compatibility
If this symbol is printed on the packaging or in the instructions of the hand-held transmitter, the remote-controlled device is generally compatible with the integrated universal remote con ...
The concept
▷ The mobile phone can be operated without taking your hands from the steering wheel. ▷ In many cases, the entries are accompanied by announcements or questions. ▷ ›...‹ Verbal ...
Controls
1 Control Display 2 Controller with buttons The buttons can be used to open the menus directly. The controller can be used to select menu items and create the settings. ...