Storing favorites
Up to 30 favorites can be stored in the favorites list. Available favorites are artist, track, game, league, and team.
Storing the artist, track, or game
It is only possible to store favorites that are currently being broadcast. The channel information must be available.
1. "Radio"
2. "Satellite radio"
3. If necessary, open "All channels" or the desired category.
4. Select the desired channel.
5. Press the controller again.
6. Select the artist, track, or game.
Storing the league or team
Leagues or teams can be added to the favorites from a selection list.
1. "Radio"
2. "Satellite radio"
3.

"Manage favorites"
4. "Add sports information"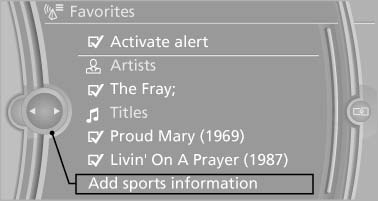 Add sports information
5. Select the league.
6. Select "Add all teams" or the desired team.
See also:
The concept
This system can be used to select a desired speed that the vehicle will maintain automatically on clear roads. To the extent possible, the system automatically adjusts the speed to a slower veh ...
Tires
Due to technical factors associated with their manufacture, tires do not achieve their full traction potential until after an initial breaking-in period. Drive conservatively for the first 200 mi ...
Switching the reception on/off
1. "Navigation" 2. Open "Options". 3. "Receive Traffic Info" ...