Timeshift
Approx. one hour of the program being broadcast on the channel currently being listened to is stored in a buffer. Prerequisite: the signal must be available.
The stored audio track can be played with a delay following the live broadcast. When the buffer is full, the older tracks are overwritten. The buffer is cleared when a new channel is selected.
Opening the timeshift function
1. "Radio"
2. "Satellite radio"
3.

"Replay - Time shift"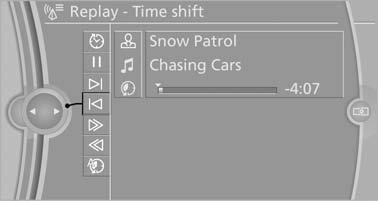 Replay - Time shift
▷ The red arrow shows the current playback position.
▷ The time difference to the live broadcast is displayed next to the buffer bar.
▷ For live transmissions "live".
Timeshift menu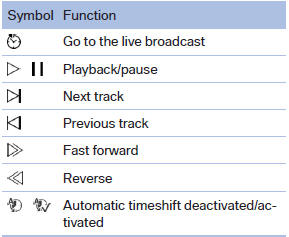 Automatic timeshift
When the function is activated, audio playback is stopped automatically in the event of:
▷ Incoming and outgoing telephone calls.
▷ Activation of the voice activation system.
▷ Muting.
The audio playback then continues with a time delay.
To activate:
1. "Radio"
2. "Satellite radio"
3.

"Replay - Time shift"
4.

"Automatic time shift"
To deactivate:

"Automatic time shift"
See also:
System limits
Changes to the parking space Changes to the parking space after it was measured are not taken into account by the system. Therefore, always be alert and ready to intervene; otherwise, there is ...
Manual transmission
When shifting into 5th or 6th gear, press the gearshift lever to the right. Otherwise, the engine could be damaged if you inadvertently shift into 3rd or 4th gear. Reverse gearSelect this only ...
Bypassing a section of the route
Calculate a new route for a route section. 1. "Navigation" 2. "Route information" 3. "New route for" 4. Turn the controller. Enter the number of miles within whi ...