Timeshift
Approx. one hour of the program being broadcast on the channel currently being listened to is stored in a buffer. Prerequisite: the signal must be available.
The stored audio track can be played with a delay following the live broadcast. When the buffer is full, the older tracks are overwritten. The buffer is cleared when a new channel is selected.
Opening the timeshift function
1. "Radio"
2. "Satellite radio"
3.

"Replay - Time shift"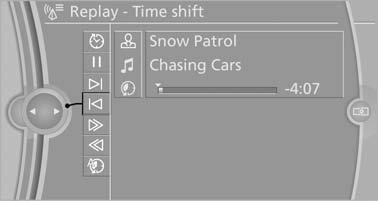 Replay - Time shift
▷ The red arrow shows the current playback position.
▷ The time difference to the live broadcast is displayed next to the buffer bar.
▷ For live transmissions "live".
Timeshift menu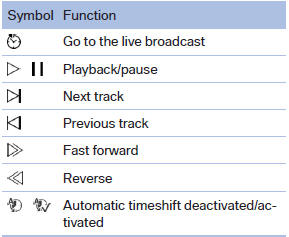 Automatic timeshift
When the function is activated, audio playback is stopped automatically in the event of:
▷ Incoming and outgoing telephone calls.
▷ Activation of the voice activation system.
▷ Muting.
The audio playback then continues with a time delay.
To activate:
1. "Radio"
2. "Satellite radio"
3.

"Replay - Time shift"
4.

"Automatic time shift"
To deactivate:

"Automatic time shift"
See also:
Remote control
In the center armrest in the rear Storage is possible in a horizontal position in the center armrest. Menu navigation The transmission time of the remote control is limited by law. To execu ...
Radio
Your radio is designed for reception of the following stations: > FM and AM > HD Radio > Satellite radio ...
Closing the hood
Let the hood drop from a height of approx. 16 in/ 40 cm and push down on it to lock it fully. The hood must audibly engage on both sides. Hood open when driving If you see any signs that the h ...