Timeshift
Approx. one hour of the program being broadcast on the channel currently being listened to is stored in a buffer. Prerequisite: the signal must be available.
The stored audio track can be played with a delay following the live broadcast. When the buffer is full, the older tracks are overwritten. The buffer is cleared when a new channel is selected.
Opening the timeshift function
1. "Radio"
2. "Satellite radio"
3.

"Replay - Time shift"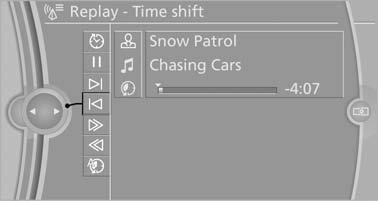 Replay - Time shift
▷ The red arrow shows the current playback position.
▷ The time difference to the live broadcast is displayed next to the buffer bar.
▷ For live transmissions "live".
Timeshift menu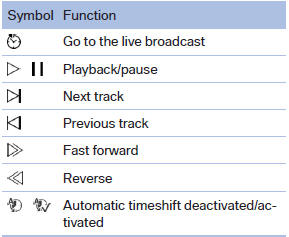 Automatic timeshift
When the function is activated, audio playback is stopped automatically in the event of:
▷ Incoming and outgoing telephone calls.
▷ Activation of the voice activation system.
▷ Muting.
The audio playback then continues with a time delay.
To activate:
1. "Radio"
2. "Satellite radio"
3.

"Replay - Time shift"
4.

"Automatic time shift"
To deactivate:

"Automatic time shift"
See also:
Vehicle equipment
All standard, country-specific and optional equipment that is offered in the model series is described in this chapter. Therefore, equipment is also described that is not available in a vehicle, ...
Putting into operation after a power failure
Putting the parking brake into operation The parking brake should only be put into operation again if it was manually released due to an interruption in the supply of electrical power. Otherw ...
2011 BMW 750 Review by David Thomas
As the 2010 7 Series ebbs into the 2011 with few changes, I spent some time driving the 750Li xDrive. That's BMW's long-wheelbase, all-wheel-drive version of its flagship sedan. While I was impr ...