Timeshift
Approx. one hour of the program being broadcast on the channel currently being listened to is stored in a buffer. Prerequisite: the signal must be available.
The stored audio track can be played with a delay following the live broadcast. When the buffer is full, the older tracks are overwritten. The buffer is cleared when a new channel is selected.
Opening the timeshift function
1. "Radio"
2. "Satellite radio"
3.

"Replay - Time shift"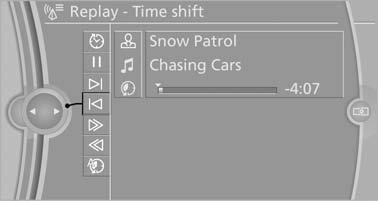 Replay - Time shift
▷ The red arrow shows the current playback position.
▷ The time difference to the live broadcast is displayed next to the buffer bar.
▷ For live transmissions "live".
Timeshift menu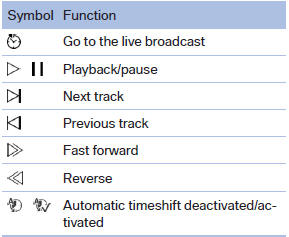 Automatic timeshift
When the function is activated, audio playback is stopped automatically in the event of:
▷ Incoming and outgoing telephone calls.
▷ Activation of the voice activation system.
▷ Muting.
The audio playback then continues with a time delay.
To activate:
1. "Radio"
2. "Satellite radio"
3.

"Replay - Time shift"
4.

"Automatic time shift"
To deactivate:

"Automatic time shift"
See also:
Convertible: rollover protection system
The rollover protection system is activated automatically in the event of an accident, a critical driving situation, an extreme tilt in the car's longitudinal axis or upon loss of ground conta ...
Terminating destination guidance
1. "Navigation" 2. "Map" 3. "Guidance" 4. "Stop guidance" ...
Playing music
Music search All tracks for which additional information has been stored can be accessed by the music search. Tracks without additional information can be called up via the corresponding album ...