Timeshift
Approx. one hour of the program being broadcast on the channel currently being listened to is stored in a buffer. Prerequisite: the signal must be available.
The stored audio track can be played with a delay following the live broadcast. When the buffer is full, the older tracks are overwritten. The buffer is cleared when a new channel is selected.
Opening the timeshift function
1. "Radio"
2. "Satellite radio"
3.

"Replay - Time shift"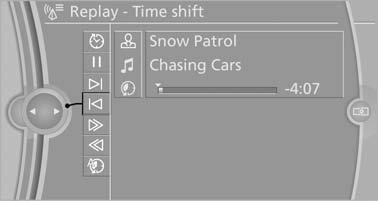 Replay - Time shift
▷ The red arrow shows the current playback position.
▷ The time difference to the live broadcast is displayed next to the buffer bar.
▷ For live transmissions "live".
Timeshift menu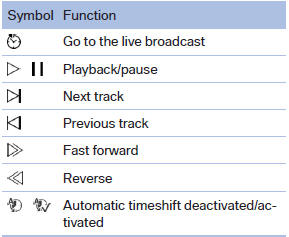 Automatic timeshift
When the function is activated, audio playback is stopped automatically in the event of:
▷ Incoming and outgoing telephone calls.
▷ Activation of the voice activation system.
▷ Muting.
The audio playback then continues with a time delay.
To activate:
1. "Radio"
2. "Satellite radio"
3.

"Replay - Time shift"
4.

"Automatic time shift"
To deactivate:

"Automatic time shift"
See also:
General malfunctions
▷ CD/DVD changers and players have been optimized for performance in vehicles. In some instances they may be more sensitive to faulty CDs/DVDs than stationary devices would be. ▷ ...
Approved mobile phones
Details on which mobile phones and external devices with a Bluetooth interface are supported by the mobile phone preparation package can be obtained at www.bmwusa.com/bluetooth. Displaying the ...
External devices
At a glance ...