Filtering traffic bulletins
You can set which traffic bulletins appear on the map.
1. "Navigation"
2. "Map"
3. Open "Options".
4. "Traffic Info categories"
5. Select the desired category.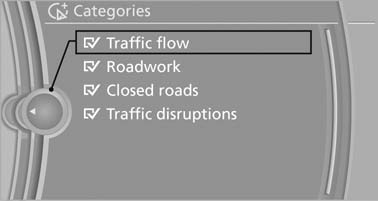 Select the desired category
Traffic bulletins of the selected category are displayed on the map.
▷ Traffic bulletins that are relevant to the route are always shown.
▷ For your own safety, traffic bulletins that notify you of potentially dangerous situations, such as wrong-way drivers, cannot be hidden.
See also:
Displaying status
Information about the currently available software applications can be displayed. 1. "ConnectedDrive" 2. "BMW apps" ...
Calling
Dialing a phone number 1. ›Dial number‹ 2. Say the phone number. 3. ›Dial‹ Correcting the phone number The sequence of digits can be deleted after the system has repeated the digits. ›Correct ...
What to do if…
For information on suitable mobile phones. > Appointments, tasks, notes, texts, or emailsfrom the mobile phone are not displayed? The mobile phone is not suitable for the missing function or is ...