Changing the route criteria
1. "Navigation"
2. "Map"
3.

"Route preference"
4. Select the criterion:
▷

"Fast route": time-optimized route, being a combination of the shortest possible route and the fastest roads.
▷

"Efficient route": optimized combination of the fastest and shortest route.
▷

"Short route": short distance, irrespective of how fast or slow progress will be.
▷ "Alternative routes": if available, alternative routes are suggested during active destination guidance. The individual suggestions are highlighted in color.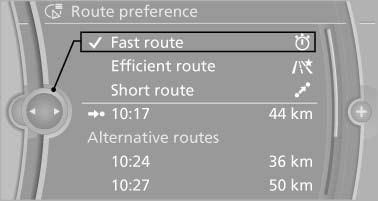 Alternative routes
5. Specify additional criteria for the route, if necessary:
▷ "Avoid highways": highways are avoided wherever possible.
▷ "Avoid toll roads": toll roads are avoided wherever possible.
▷ "Avoid ferries": ferries are avoided where possible.
See also:
General information
The interior lamps, footwell lamps, entry lamps and courtesy lamps are controlled automatically. The brightness of some of these lamps is influenced by the thumbwheel for the instrument lightin ...
Switching the wipers on/off and brief wipe
Do not switch on the wipers if frozen Do not switch on the wipers if they are frozen onto the windshield; otherwise, the wiper blades and the windshield wiper motor may be damaged. Switching ...
Have diesel exhaust fluid refilled
This exhaust fluid is refilled by your service center during regular maintenance. If you adhere to this maintenance schedule, it is usually not necessary to refill any fluids between the mainten ...