Changing the route criteria
1. "Navigation"
2. "Map"
3.

"Route preference"
4. Select the criterion:
▷

"Fast route": time-optimized route, being a combination of the shortest possible route and the fastest roads.
▷

"Efficient route": optimized combination of the fastest and shortest route.
▷

"Short route": short distance, irrespective of how fast or slow progress will be.
▷ "Alternative routes": if available, alternative routes are suggested during active destination guidance. The individual suggestions are highlighted in color.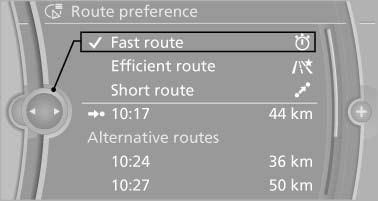 Alternative routes
5. Specify additional criteria for the route, if necessary:
▷ "Avoid highways": highways are avoided wherever possible.
▷ "Avoid toll roads": toll roads are avoided wherever possible.
▷ "Avoid ferries": ferries are avoided where possible.
See also:
Starting the engine
Never use spray fluids to start the engine. 1. Start the engine of the assisting vehicle and let it run for several minutes at an increased idle speed. 2. Start the engine of the vehicle being s ...
Loading
Overloading the vehicle To avoid exceeding the approved carrying capacity of the tires, never overload the vehicle. Overloading can lead to overheating and increases the rate at which damage d ...
Through-loading system
General information The cargo area can be enlarged by folding down the rear seat backrest. The rear seat backrest is divided into two parts at a ratio of 60 to 40. The sides can be folded down ...