Changing the route criteria
1. "Navigation"
2. "Map"
3.

"Route preference"
4. Select the criterion:
▷

"Fast route": time-optimized route, being a combination of the shortest possible route and the fastest roads.
▷

"Efficient route": optimized combination of the fastest and shortest route.
▷

"Short route": short distance, irrespective of how fast or slow progress will be.
▷ "Alternative routes": if available, alternative routes are suggested during active destination guidance. The individual suggestions are highlighted in color.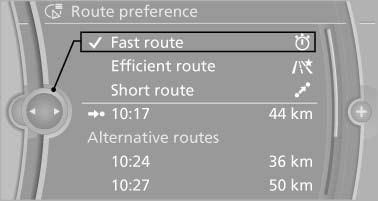 Alternative routes
5. Specify additional criteria for the route, if necessary:
▷ "Avoid highways": highways are avoided wherever possible.
▷ "Avoid toll roads": toll roads are avoided wherever possible.
▷ "Avoid ferries": ferries are avoided where possible.
See also:
New wheels and tires
Have new wheels and tires installed only by your BMW center or tire shop that works according to BMW repair procedures with correspondingly trained personnel. If this work is not carried out prop ...
With the Professional navigationsystem: map view for split screen
The map view can be selected for the split screen independently from the main screen. 1. Open "Options". 2. "Split screen" 3. Move the controller to the right repeatedly until ...
Vehicle battery
Maintenance The battery is maintenance-free, i.e., the electrolyte will last for the life of the battery. Your service center will be glad to advise you on questions regarding the battery. Batt ...