Changing the route criteria
1. "Navigation"
2. "Map"
3.

"Route preference"
4. Select the criterion:
▷

"Fast route": time-optimized route, being a combination of the shortest possible route and the fastest roads.
▷

"Efficient route": optimized combination of the fastest and shortest route.
▷

"Short route": short distance, irrespective of how fast or slow progress will be.
▷ "Alternative routes": if available, alternative routes are suggested during active destination guidance. The individual suggestions are highlighted in color.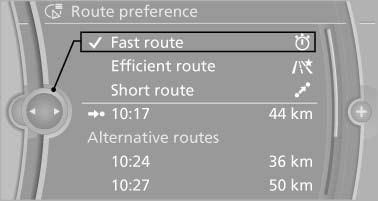 Alternative routes
5. Specify additional criteria for the route, if necessary:
▷ "Avoid highways": highways are avoided wherever possible.
▷ "Avoid toll roads": toll roads are avoided wherever possible.
▷ "Avoid ferries": ferries are avoided where possible.
See also:
General information
The channels are offered in predefined packages. The packages must be enabled by telephone. ...
Remove attached partsfollowing use
Remove auxiliary mirrors, roof or rear luggage racks which are no longer required following use. Attached parts on the vehicle impair the aerodynamics and increase the fuel consumption. ...
Requirements
Equipment version with full preparation package mobile phone. An Emergency Request can be made, even if no mobile phones are paired with the vehicle. BMW Assist is activated. The radio ...