Changing the route criteria
1. "Navigation"
2. "Map"
3.

"Route preference"
4. Select the criterion:
▷

"Fast route": time-optimized route, being a combination of the shortest possible route and the fastest roads.
▷

"Efficient route": optimized combination of the fastest and shortest route.
▷

"Short route": short distance, irrespective of how fast or slow progress will be.
▷ "Alternative routes": if available, alternative routes are suggested during active destination guidance. The individual suggestions are highlighted in color.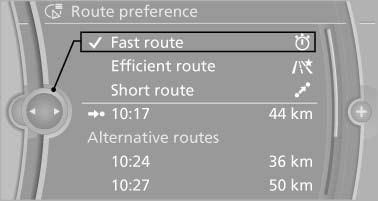 Alternative routes
5. Specify additional criteria for the route, if necessary:
▷ "Avoid highways": highways are avoided wherever possible.
▷ "Avoid toll roads": toll roads are avoided wherever possible.
▷ "Avoid ferries": ferries are avoided where possible.
See also:
Messages
General information Whether or not text messages and e-mails from the mobile phone are displayed depends on whether transmission from the mobile phone to the vehicle is supported. Text messages ...
The concept
You can set several of your vehicle's functions to suit your personal needs and preferences. ▷ The settings are automatically saved in the profile currently activated in the remote control. ...
Sitting safely
The ideal seating position can make a vital contribution to relaxed, fatigue-free driving. The seating position plays an important role in an accident in combination with: ► Safety belts ...