Changing the route criteria
1. "Navigation"
2. "Map"
3.

"Route preference"
4. Select the criterion:
▷

"Fast route": time-optimized route, being a combination of the shortest possible route and the fastest roads.
▷

"Efficient route": optimized combination of the fastest and shortest route.
▷

"Short route": short distance, irrespective of how fast or slow progress will be.
▷ "Alternative routes": if available, alternative routes are suggested during active destination guidance. The individual suggestions are highlighted in color.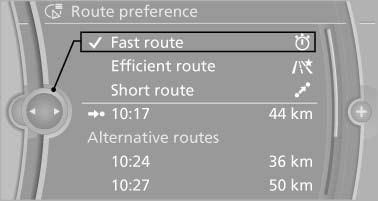 Alternative routes
5. Specify additional criteria for the route, if necessary:
▷ "Avoid highways": highways are avoided wherever possible.
▷ "Avoid toll roads": toll roads are avoided wherever possible.
▷ "Avoid ferries": ferries are avoided where possible.
See also:
Manual transmission
Switching off the engine 1. With the vehicle at a standstill, press the Start/Stop button. 2. Shift into first gear or reverse. 3. Set the parking brake. ...
Notes
CD/DVD player and changer Do not remove the cover BMW CD/DVD players and changers are officially designated Class 1 laser products. Do not operate if the cover is damaged; otherwise, severe e ...
Malfunction
In the event of a failure or malfunction of the parking brake, secure the vehicle against rolling using a wheel chock, for example, when leaving it. ...