Securing cargo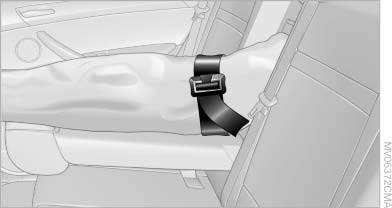 Securing cargo
After loading, secure the ski bag and its contents.
Tighten the retaining strap on the tensioning buckle for this purpose.

Securing the ski bag
Secure the ski bag in this way. Failure to do so may cause it to endanger occupants during braking or evasive maneuvers.◀
See also:
The concept
The rear view camera assists you when parking and maneuvering in reverse. To accomplish this, the region behind your vehicle is shown on the Control Display. ...
Status indicator on the Control DisplayThe status is displayed.
The tire and system status is indicated by the color of the tires. A change in the tire inflation pressure during driving is taken into account. A correction is only necessary if this is indicat ...
Check the tire inflation pressure regularly
Check and, if necessary, correct the tire inflation pressure, at least twice a month and before starting on a long trip. Low tire inflation pressure increases rolling resistance and thus raises ...