One lever for all functions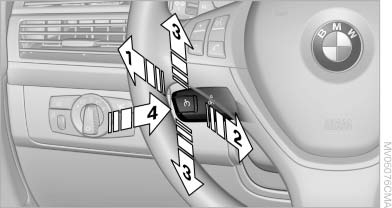 One lever for all functions
1 Storing and maintaining speed or accelerating
2 Storing and maintaining speed or decelerating
3 Interrupting and deactivating the system
4 Resuming a speed stored beforehand
See also:
Special windshield
The windshield is part of the system. The shape of the windshield makes it possible to display a precise image. A film in the windshield prevents double images from being displayed. Therefore, ...
What to do if...
Information on suitable mobile phones. Appointments, tasks, notes, text messages, or e-mails from the mobile phone are not displayed. ▷ The mobile phone is not capable of the missing funct ...
Checking the pressure
Only check the tire inflation pressure when the tires are cold. This means after driving no more than 1.25 miles/2 km or when the vehicle has been parked for at least 2 hours. When the tires a ...