Entering dates
Enter the dates for the required inspections.
Make sure the date on the Control Display is set correctly
1. "Vehicle Info"
2. "Vehicle status"
3.

"Service required"
4. "§ Vehicle inspection"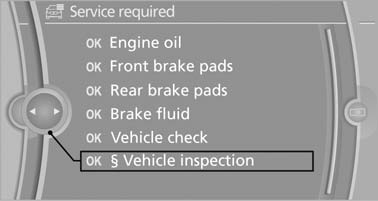 Vehicle inspection
5. Open the menu for entering the deadline.
6. "Date:"
7. Create the settings.
8. Press the controller to apply the setting. The year is highlighted.
9. Turn the controller to make the adjustment.
10. Press the controller to apply the setting. The date entry is stored.
To exit from the menu:
Move the controller to the left.
See also:
Condensation under the parked vehicle
When using the automatic climate control, condensation water develops that exits underneath the vehicle. Therefore, traces of condensed water under the vehicle are normal. ...
Important features in the engine compartment
BMW X5 BMW X5 1. Filler neck for washer fluid for the headlamp and window washer system 2. Starting aid terminal 3. Coolant expansion tank 4. Engine oil filler neck BMW X6 BMW ...
Air volume, manual
To be able to manually adjust the air volume, switch off the AUTO program first. Press the left or right side of the button: decrease or increase air volume. The selected air volume is shown ...