Entering dates
Enter the dates for the required inspections.
Make sure the date on the Control Display is set correctly
1. "Vehicle Info"
2. "Vehicle status"
3.

"Service required"
4. "§ Vehicle inspection"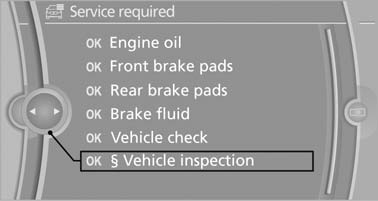 Vehicle inspection
5. Open the menu for entering the deadline.
6. "Date:"
7. Create the settings.
8. Press the controller to apply the setting. The year is highlighted.
9. Turn the controller to make the adjustment.
10. Press the controller to apply the setting. The date entry is stored.
To exit from the menu:
Move the controller to the left.
See also:
Possible commands
Having possible commands read aloud The commands available in each case depend on the menu item selected on the Control Display. To have the available commands read out loud: ›Voice commands‹ F ...
Light-emitting diodes LED
Light-emitting diodes installed behind translucent lenses serve as the light source for many of the controls, displays and other equipment in your vehicle. These light-emitting diodes, which op ...
Engine oil temperature
Engine oil temperature ▷ Cold engine: the pointer is at the low temperature end. Drive at moderate engine and vehicle speeds. ▷ Normal operating temperature: the pointer is in th ...