Engine oil temperature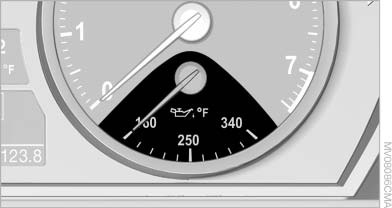 Engine oil temperature
▷ Cold engine: the pointer is at the low temperature end. Drive at moderate engine and vehicle speeds.
▷ Normal operating temperature: the pointer is in the middle or in the right half of the temperature display.
▷ Hot engine: the pointer is at the high temperature end. Switch off the engine immediately and allow it to cool down.
If the engine oil temperature is too high, a message appears on the Control Display.
Check the oil level,
See also:
The concept
When the low beams are switched on, this system automatically switches the high beams on and off. The procedure is controlled by a sensor on the front of the interior rearview mirror. The assi ...
Bypassing a section of the route
Calculate a new route for a route section. 1. "Navigation" 2. "Route information" 3. "New route for" 4. Turn the controller. Enter the number of kilometers within ...
Storing favorites
Up to 30 favorites can be stored in the favorites list. Available favorites are artist, track, game, league, and team. Storing the artist, track, or game It is only possible to store favorites t ...