Engine oil temperature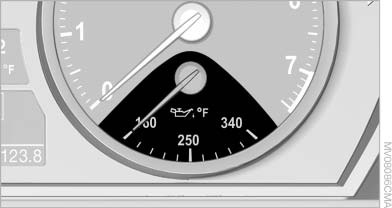 Engine oil temperature
▷ Cold engine: the pointer is at the low temperature end. Drive at moderate engine and vehicle speeds.
▷ Normal operating temperature: the pointer is in the middle or in the right half of the temperature display.
▷ Hot engine: the pointer is at the high temperature end. Switch off the engine immediately and allow it to cool down.
If the engine oil temperature is too high, a message appears on the Control Display.
Check the oil level,
See also:
Have diesel exhaust fluid refilled
This exhaust fluid is refilled by your service center during regular maintenance. If you adhere to this maintenance schedule, it is usually not necessary to refill any fluids between the mainten ...
Service contract
▷ After your contract with BMW Assist has expired, the BMW Assist system can be deactivated by the service center without you having to visit a workshop. After deactivation, an Emergency ...
Initiating an Emergency Request
1. Press the cover briefly to open it. 2. Press the SOS button until the LED in the button lights up. The LED lights up: an Emergency Request was initiated. If the situation allows, wait ...