Releasing the parking brake manually
In the event of an electrical power loss or electrical malfunction, you can release the parking brake manually.

Secure the vehicle against rolling
Before releasing the parking brake manually, and whenever you park the vehicle with the parking brake released, ensure that position P of the automatic transmission is engaged. Note the display in the instrument cluster.
In addition, secure the vehicle against rolling, e.g. with a wheel chock. Otherwise there is a danger that the vehicle could roll if parked on a steep slope.◀
Jump-starting and towing
Unlocking
1. Open the left-hand side panel in the cargo area.
2. Remove the first aid kit and the warning triangle.
Close the bracket of the warning triangle.
3. Insert the releasing tool or screwdriver, contained in the tool kit under the cargo floor panel, at the releasing point.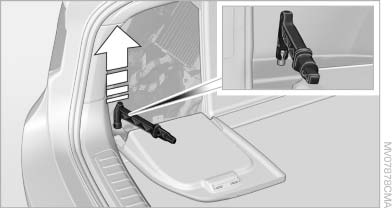 Unlocking
4. Firmly pull the releasing tool or screwdriver upward against the mechanical resistance, refer to arrow, until a considerable increase in force is felt and the parking brake is then clearly heard to release.
5. Stow the releasing tool or screwdriver, warning triangle, and first aid kit and close the left side panel in the cargo area.

Have the malfunction corrected
Have the malfunction corrected at the nearest service center or at a workshop that works according to BMW repair procedures with correspondingly trained personnel. If the parking brake has been released manually in response to a malfunction, only technicians can return it to operation.◀
Following manual release, the actual status of the parking brake may deviate from that displayed by the indicator lamp.
See also:
Drive Dynamic Control gives the driver the choice of car set-up.
With Drive Dynamic Control, the virtues of sportiness and comfort can take precedence as the situation demands. Drivers can make their own choice of suspension settings in NORMAL, SPORT and SPORT+ ...
Storage compartments
Compartments are located in the doors, in the center console in the front and rear as well as in the rear console in the BMW X6. Storage nets are located on the backrests of the front seats. ...
Checking the pressure
Only check the tire inflation pressure when the tires are cold. This means after driving no more than 1.25 miles/2 km or when the vehicle has been parked for at least 2 hours. When the tires a ...