Interior rearview mirror
Reducing the blinding effect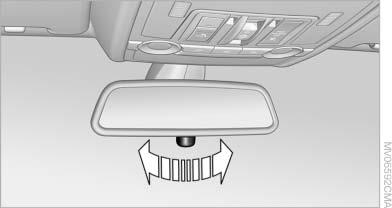 Reducing the blinding effect
From behind when driving at night: turn the knob.
See also:
Folding down head restraints
Extending/retracting head restraint Only fold down head restraint if no passengers are in the rear. Fold out retracted headrests again if passengers are being carried in the rear; otherwise, ...
Fold-out position of the wipers
Required when changing the wiper blades or under frosty conditions, for example. 1. Switch off the ignition. 2. Under frosty conditions, ensure that the wiper blades are not frozen onto the wind ...
Setting the voice dialog
You can set whether the system should use the standard dialog or a shorter version. In the shorter variant of the voice dialog, the announcements from the system are issued in an abbreviated for ...