Tasks
Displaying task list
Display open tasks that must be completed within the next 90 days.
1. "Office"
2. "Tasks"
Sorting task list
1. Select the top line in the task list.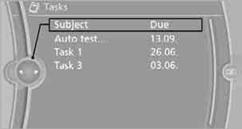 2. To select a sorting criterion:
> "Priority (!)"
> "Subject"
> "Due date"
Displaying task
1. Select the desired task.
2. To scroll through the task, if necessary:
> Turn the controller.
> Select the


symbol.
Using contact data
Contact data from appointments, tasks, text messages, emails, and notes can be stored or selected.
Reading a task aloud
Reading a task aloud.
See also:
Service Request
At a glance Sends information to your service partner to request the arrangement of a service appointment. The TeleService data is transmitted during a Service Request. If possible, your service ...
Turn signals, front
24-watt bulb, PY24W 1. Rotate bulb holder to the left and remove it along with the bulb. 2. Rotate the bulb to the right along with the socket and replace. 3. Install in the reverse order. ...
Connecting a particular mobile phone
If more than one mobile phone is detected by the vehicle, the mobile phone at the top of the list is connected. If a different detected cell phone is connected with the vehicle. A different mobile ...