Tasks
Displaying task list
Display open tasks that must be completed within the next 90 days.
1. "Office"
2. "Tasks"
Sorting task list
1. Select the top line in the task list.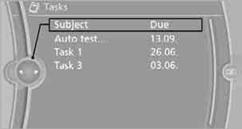 2. To select a sorting criterion:
> "Priority (!)"
> "Subject"
> "Due date"
Displaying task
1. Select the desired task.
2. To scroll through the task, if necessary:
> Turn the controller.
> Select the


symbol.
Using contact data
Contact data from appointments, tasks, text messages, emails, and notes can be stored or selected.
Reading a task aloud
Reading a task aloud.
See also:
Manual transmission
When shifting into 5th or 6th gear, press the gearshift lever to the right. Otherwise, the engine could be damaged if you inadvertently shift into 3rd or 4th gear. Reverse gearSelect this only ...
Notes
Always make sure that safety belts are being worn by all occupants before driving away. Although airbags enhance safety by providing added protection, they are not a substitute for safety belts ...
Rear CD/DVD player
1 CD/DVD slot 2 Eject CD/DVD 3 On/off, right 4 Headphone connection, right 5 RCA sockets 6 Headphone connection, left 7 On/off, left ...