Exterior mirrors
General information
The mirror on the passenger side is more curved than the driver's mirror.

Estimating distances correctly
Objects reflected in the mirror are closer than they appear. Do not estimate the distance to the traffic behind you based on what you see in the mirror, as this will increase your risk of an accident.◀
At a glance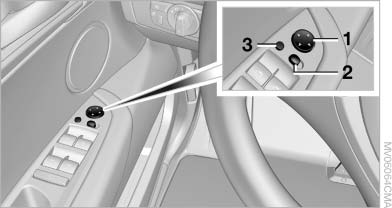 At a glance
1. Adjusting
2. Left/right, Automatic Curb Monitor
3. Folding in and out
Selecting a mirror

To change over to the other mirror:
Slide the mirror changeover switch.
Adjusting electrically

The setting corresponds to the direction in which the button is pressed.
Storing positions
Seat and mirror memory
Adjusting manually
If an electrical malfunction occurs, for example, press the edges of the mirror glass.
Automatic Curb Monitor
When the reverse gear is engaged, the mirror glass tilts downward slightly on the front passenger side. This improves your view of the curb and other low-lying obstacles when parking, for example.
Activating
1.

Slide the mirror changeover switch to the driver's side mirror position.
2. Engage reverse gear or move the selector lever to position R.
Deactivating
Slide the mirror changeover switch to the passenger's side mirror position.
Fold in and out
Press button 3.
Possible up to approx. 15 mph/20 km/h.
For example, this is advantageous

▷ In car washes.
▷ In narrow streets.
▷ For folding back mirrors that were folded away manually.
Mirrors that were folded in are folded out automatically at a speed of approx. 25 mph/40 km/h.

Fold in the mirror in a car wash
Before entering an automatic car wash, fold in the exterior mirrors by hand or with the button; otherwise, they could be damaged, depending on the width of the vehicle.◀
Automatic heating
Depending on the external temperature, both exterior mirrors are automatically heated when the engine is running or the ignition is switched on.
See also:
Display on the Control Display
Switching on the backup camera via iDrive With Top View switched on: "Rear view camera" The backup camera image is displayed. The setting is stored for the remote control currently i ...
Switching the system on/off
Press the left or right side of the button on the CD/DVD player in the rear for the respective page. Rear entertainment and screens are switched on/off. After switching off the ignition, ...
Symbols used
Indicates precautions that must be followed precisely in order to avoid the possibility of personal injury and serious damage to the vehicle. Indicates information that will assist you in gai ...