Tire tread
Summer tires
Do not drive with a tire tread depth of less than 0.12 in/3 mm.
There is an increased danger of hydroplaning if the tread depth is less than 0.12 in/3 mm.
Winter tires
Do not drive with a tire tread depth of less than 0.16 in/4 mm.
Below a tread depth of 0.16 in/4 mm, tires are less suitable for winter operation.
Minimum tread depth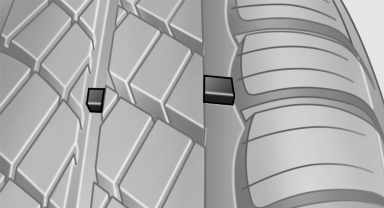 Wear indicators are distributed around the tire's circumference and have the legally required minimum height of 0.063 in/1.6 mm.
They are marked on the side of the tire with TWI, Tread Wear Indicator.
See also:
Redialing
General information The list of dialed numbers in the mobile phone is transmitted to the vehicle depending on the mobile phone. The 20 phone numbers dialed last are displayed. The sorting order ...
TRACTION
Maximum traction on loose road surfaces. DTC Dynamic Traction Control is switched on. Driving stability is limited during acceleration and when driving in bends. Activating TRACTION Press the ...
Parts and Accessories
For your own safety, use genuine parts and accessories approved by BMW. When you purchase accessories tested and approved by BMW and Genuine BMW Parts, you simultaneously acquire the assurance ...