Tire tread
Summer tires
Do not drive with a tire tread depth of less than 0.12 in/3 mm.
There is an increased danger of hydroplaning if the tread depth is less than 0.12 in/3 mm.
Winter tires
Do not drive with a tire tread depth of less than 0.16 in/4 mm.
Below a tread depth of 0.16 in/4 mm, tires are less suitable for winter operation.
Minimum tread depth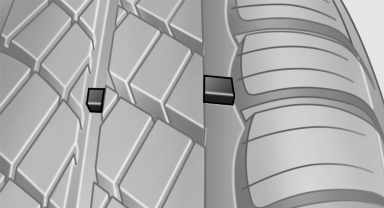 Wear indicators are distributed around the tire's circumference and have the legally required minimum height of 0.063 in/1.6 mm.
They are marked on the side of the tire with TWI, Tread Wear Indicator.
See also:
X3 in the Market
At $38,000, the X3 starts substantially higher than its nearest competitor, the Acura RDX. Save for its problematic transmission behavior, the BMW offers a more buttoned-down driving experience th ...
BMW 3-Series production at the company's home plant in Munich
Like each of its predecessors since 1975, the new BMW 3-Series will be built at BMW Plant Munich. The company's home plant lies at the centre of the sprawling Bavarian city and represents the hear ...
The concept
This system projects important information into the driver's field of vision, e.g., the speed. In this way, the driver can get information without averting his or her eyes from the road. ...