Adjusting electrically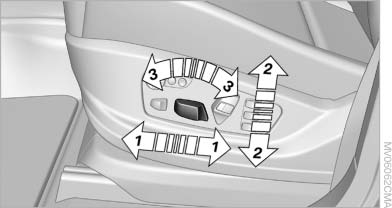 Adjusting electrically
1. Forward/backward
2. Height
3. Seat tilt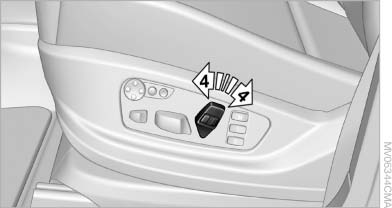 Backrest
4. Backrest
Differs depending on seat: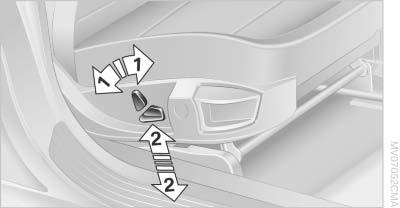 Differs depending on seat
1. Backrest
2. Height
Additional depending on seat: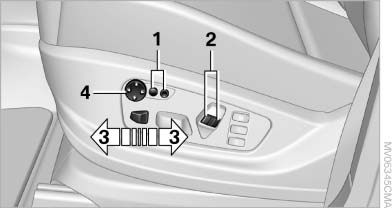 Additional depending on seat
1. Backrest width
2. Shoulder support
3. Thigh support
4. Lumbar support
Backrest width
The width of the backrest can be changed with the side wings to adjust the side support to your own needs.
Shoulder support
This also supports the back in the shoulder area, This creates a relaxed sitting position and helps relieve stress on the shoulder muscles.
The shoulder support is also used to adjust the distance of the head restraint from the back of the seat occupant's head.
Lumbar support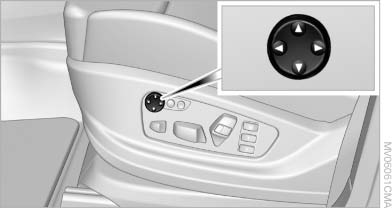 Lumbar support
You can also adjust the contour of the backrest to obtain additional support in the lumbar region.
The upper hips and spinal column receive supplementary support to help you maintain a relaxed, upright sitting position.
▷ Increase or decrease curvature:
Press front or rear section of switch.

▷ Shift curvature up or down:
Press upper or lower section of switch.
See also:
What to do if...
► The current transmission position cannot be displayed? The vehicle is located in an unrecognized region, is in a poor reception area, or the system is currently determining the position. ...
Air volume, manual
To be able to manually adjust the air volume, switch off the AUTO program first. Press the left or right side of the button: decrease or increase air volume. The selected air volume is shown o ...
2010 BMW X5 M Review
On paper, the BMW X5 M seems about as incongruous as a car can be. It's a five-seat midsize crossover powered by a 555-horsepower, twin-turbocharged V-8 engine that can accelerate from zero to 60 ...