Adjusting electrically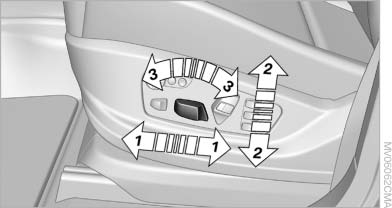 Adjusting electrically
1. Forward/backward
2. Height
3. Seat tilt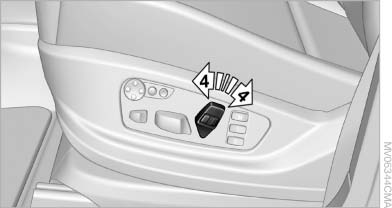 Backrest
4. Backrest
Differs depending on seat: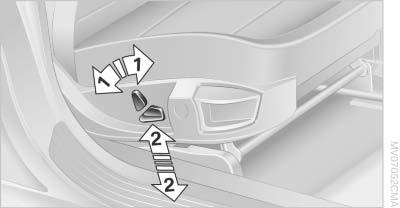 Differs depending on seat
1. Backrest
2. Height
Additional depending on seat: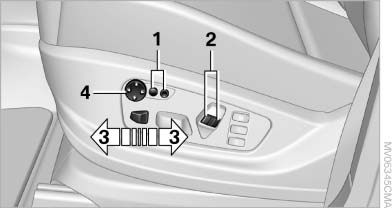 Additional depending on seat
1. Backrest width
2. Shoulder support
3. Thigh support
4. Lumbar support
Backrest width
The width of the backrest can be changed with the side wings to adjust the side support to your own needs.
Shoulder support
This also supports the back in the shoulder area, This creates a relaxed sitting position and helps relieve stress on the shoulder muscles.
The shoulder support is also used to adjust the distance of the head restraint from the back of the seat occupant's head.
Lumbar support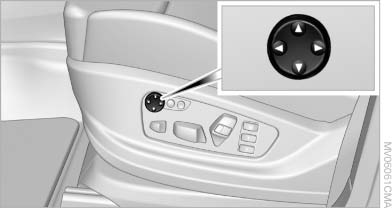 Lumbar support
You can also adjust the contour of the backrest to obtain additional support in the lumbar region.
The upper hips and spinal column receive supplementary support to help you maintain a relaxed, upright sitting position.
▷ Increase or decrease curvature:
Press front or rear section of switch.

▷ Shift curvature up or down:
Press upper or lower section of switch.
See also:
Releasing the parking brake manually
In the event of an electrical power loss or electrical malfunction, you can release the parking brake manually. Secure the vehicle against rolling Before releasing the parking brake manually, ...
Bypassing a section of the route
Calculate a new route for a route section. 1. "Navigation" 2. "Route information" 3. "New route for" 4. Turn the controller. Enter the number of kilometers within ...
Tire condition
Inspect your tires frequently for tread wear, signs of damage and for foreign objects lodged in the tread. Check the tread depth. Minimum tread depthThe tread depth should not drop below 0.12 in/3 ...