Automatic Service Request
The Teleservice data necessary for servicing the vehicle are automatically sent to your BMW center prior to the service deadline. If possible, the center will contact you and a service appointment can be arranged.
Check when your BMW center was notified.
1. "Vehicle Info"
2. "Vehicle status"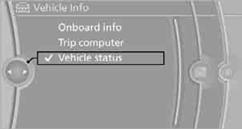 3. Open "Options".
4. "Last Service Request"
See also:
Leather care
Remove dust from the leather often, using a cloth or vacuum cleaner. Otherwise, particles of dust and road grime chafe in pores and folds, and lead to increased wear and premature degradation o ...
Parked-car ventilation
The concept The parked-car ventilation ventilates the vehicle interior and lowers its temperature, if necessary. The system can be switched on and off directly or by using two preset switch-on ...
System limits
Speed range Best results are achieved when using the system on well-developed roads and highways. The desired speed can be selected between 20 mph/30 km/h to 110 mph/180 km/h. The system can a ...